Pay Per Click for Beginners
Get TheWire Delivered to Your Inbox
The trends, insights, and solutions you need to grow your business.
By signing up, you're subscribing to our monthly email newsletter, The Wire. You may unsubscribe at any time.
Your information stays safe with us. Learn more about our privacy policy.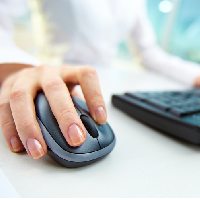 If you're like most small businesses, money doesn't grow on trees. That's why you want to make every penny count when it comes to your marketing dollars. So wouldn't it be great if you only had to pay for advertising when someone was interested in your small business? You can, it's called "pay per click" and it can help you increase traffic to your website. Start with this guide to pay per click for beginners. It has resources to get you up to speed on this cost-effective way to promote your small business.
What is Pay Per Click?
Pay per click (PPC) is a type of online marketing where your business pays a fee each time someone clicks on one of your internet ads. Often these ads link back to your website where prospective customers can learn more about your business.
It's most often used on search engines, like Google. When someone searches on a keyword that you choose, your ad appears. For example, if someone from Boise is searching for home repair tips, the ad for your Idaho-based hardware store appears on the page of search results.
The cost is based on a bidding system. The more popular the keyword, the higher your offer needs to be in order to win the bid. You determine how much you spend. And you can tweak your ad buy based on how it performs.
Resources to Get You Started
The flexibility of this marketing tool makes it easy for beginners to start slow and ramp up as they see results. Here are some key resources to get started:
Pay-Per-Click Search Engine Marketing: An Hour per Day – This book provides a step-by-step guide for small business owners to create and manage a PPC campaign. Learn now to select the right keyword, write/test ads, and use the reporting data to tweak your buy.
Ultimate Guide to Google AdWords: How to Access 1 Billion People in 10 Minutes – As ambitious as this title is, it can deliver up-to-date information on the tricks and tools of search engine marketing. It starts with the fundamentals then moves on to more advanced topics.
AdWord Fundamental Exam Refresher Guide – Here's an online study guide that helps you prepare for the AdWords Fundamental exam. But you don't have to take the exam to benefit from it. This three-module guide helps you understand the value of online advertising, set up a campaign, and measure and optimize its performance.
Want to Double Your Search Engine Traffic? – This Forbes article describes how to get "free" clicks by thinking like a PPC expert. It teaches you to pay attention to how you tag and describe each page in your website. That can help you appear within the free, organic search engine listing, right next to those ads that businesses are paying to place.
How to Use Google AdWords: A Beginner's Guide – This free eBook from HubSpot helps you use PPC as part of your overall marketing campaign. It covers topics like selecting the right keyword, setting a budget, and choosing the right metric. The authors report that businesses generally make $2 in revenue for every $1 they spend on AdWords.
5 Reasons Why Pay Per Click Ads Work for Small Budgets – This Entrepreneur article sets to rest the myth that businesses have to spend lots of money for marketing to get results. The authors offer five tips to maximize PPC campaigns. There are also links to related articles like "9 Mistakes Killing the Success of Your PPC Advertising."
Pay per click advertising offers the flexibility and targeting capabilities that can make it ideal for small businesses. Use these resources to determine if PPC is an effective way to get the most from your marketing dollars.
Get TheWire Delivered to Your Inbox
The trends, insights, and solutions you need to grow your business.
By signing up, you're subscribing to our monthly email newsletter, The Wire. You may unsubscribe at any time.
Your information stays safe with us. Learn more about our privacy policy.