Mobile Marketing for Local Businesses: Putting That 5-Inch Screen to Work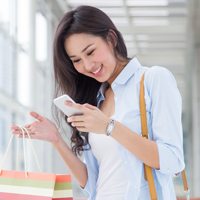 It's official. More consumers are using their mobile devices to search, shop and buy more than ever before in mobile history. In fact, if you run a small business, the "5-Inch Screen" may be your portal for a steady stream of customers – but only if you're prepared. The following tips will help you make the most of this wonderful window of opportunity:
  1. Make Sure Your Site Is Mobile Friendly
We've all seen sites that aren't optimized for mobile. They're tiny, hard to navigate and often too difficult to use. If this describes your site, have your developer revise it with mobile in mind.
A mobile-ready site ensures visitors will have a positive experience that can increase their likelihood to make a purchase. It also means your site will show up favorably in web searches, where engines like Google and Bing give preferential treatment to mobilized sites.
  2. Leverage Some Old-School Technology
One of the first things mobile devices allowed us to do was to send and receive texts. While numerous advancements have been made since then, make texting seem almost quaint, it's still one of the most reliable tactics, especially for businesses. A promotional text message is opened 98% of the time.1 Converting even a handful of these into sales can make a text campaign pay off. For tips on developing your own text campaign, check here.
  3. Get a Facebook Lift
If your Facebook page is beginning to show its age, invigorate it with a few touches that will set your business up nicely going forward. Claim your business on Facebook, which will allow visitors to check in and leave comments.
Post meaningful content at least a few times a week – and remember that a picture can say a lot. If you're active on other platforms, like Twitter and LinkedIn, a few minutes on Hootsuite, a free platform that lets you schedule all posts in advance, can be a real time saver.
  4. Fences Make Good Customers
Geo-fencing is a compelling way to attract close by smartphone users to your business. You simply designate an area around your business, such as a radius of five miles, in which to run a campaign. When someone within this area uses their device, an ad for your business pops up.
Restaurants are some of the best candidates for geo-fencing because it allows them to strike while hungry prospects are likely to be searching for options. Retailers, too, have successfully used this tactic. The best news about geo-fencing is that the cost is relative. You set the parameters, so you are in control.
  5. App Out
Remember when there was seemingly an app for everything? It probably got you thinking about developing an app for your own business. If it's still top of mind, you might want to set this idea aside for a variety of reasons. First, the cost of developing an app can quickly add up ­– into the thousands in many cases. This money could be better allocated to other marketing tactics, like geo-fencing or text campaigns.
Your app would also have to compete on a five-inch screen with mega-apps, like Pandora, Trivia Crack, Facebook – you name it. More often than not, [your business app here] will get lost in the shuffle. Yes, the idea of having your own app can be sexy. But for small businesses, this is one instance where sex doesn't sell.
Mobile marketing and devices go hand in hand. By following these tips, you can strengthen your grip on the potential it offers your business.
1 LocalVox – Mobile Marketing for Small Business
Get TheWire Delivered to Your Inbox
The trends, insights, and solutions you need to grow your business.
By signing up, you're subscribing to our monthly email newsletter, The Wire. You may unsubscribe at any time.
Your information stays safe with us. Learn more about our privacy policy.