Which Top POS Systems Suits Your Small Business
Get TheWire Delivered to Your Inbox
The trends, insights, and solutions you need to grow your business.
By signing up, you're subscribing to our monthly email newsletter, The Wire. You may unsubscribe at any time.
Your information stays safe with us. Learn more about our privacy policy.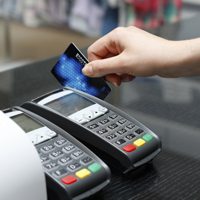 When it comes to the point of sale, the world of consumers is becoming more and more obsessed with two concepts: speed and security. What's the fastest way I can pay for this? And how can I ensure my information won't be compromised? While these features are important, there are many other qualities for small businesses to consider – info gathering, mobility, etc.
But how does a small business owner choose which point-of-sale system is best? Consider this growing list of options:
Systems That Gather
Continually keeping track of your inventory by hand can be a tedious task. If you find yourself running into this problem, investing in a system that automatically updates inventory records with each and every transaction might be your best option. Some of the more popular ones include ShopKeep, Revel, Clover as well as Shopify.
As purchases are made, the items are deducted from what's in stock, so you know exactly when to reorder. Another benefit? You can instantly see which items are customer favorites. Finally, if you have more than one location, you can link them so you have a master inventory profile.
Systems That Monitor
If you have employees, certain point of sale systems will help you monitor their work hours for accuracy. All of the services mentioned thus far will allow you to do so, and one in particular, Revel, will also let you monitor customer behavior too. This is important if you plan to reward repeat customers with loyalty perks or other incentives.
Systems That Mobilize
Let's say you run a business that's always on the go, like a pop-up shop or food truck. In this case, a convenient point-of-sale option that can travel anywhere is a must.
Enter Square, one of the dominant players in this space. This hand held device processes credit and debit cards over secure wifi, allowing customers to pay the easy way. Other features allow you to enhance your device, turning it into an iPad-based cash register complete with cash drawer for customers who prefer paper payments over plastic.
Systems That Minimize
If you prefer, fast, convenient payment processing, using nothing more than your phone, Flint Mobile gives you an attractive option. You simply scan your customer's credit or debit card using your iPhone or Android device – no additional equipment is required.
Last, But Not Least, The Caveat
A word of warning, no matter which type of system you choose to implement. The "chip" cards you've been seeing more of over the past year or so will eventually phase out the swipe-only type. This means that any retailer without the proper processing equipment will be liable for fraudulent card activity if they aren't in compliance. So, before you invest in the point-of-sale system of your choice, be sure it's chip compatible.
No matter how commerce has changed since the days of "cash and carry," the end goal is still the same. Getting paid by the means most appropriate for you.
Get TheWire Delivered to Your Inbox
The trends, insights, and solutions you need to grow your business.
By signing up, you're subscribing to our monthly email newsletter, The Wire. You may unsubscribe at any time.
Your information stays safe with us. Learn more about our privacy policy.