Benefits of Cloud-Based Accounting
Get TheWire Delivered to Your Inbox
The trends, insights, and solutions you need to grow your business.
By signing up, you're subscribing to our monthly email newsletter, The Wire. You may unsubscribe at any time.
Your information stays safe with us. Learn more about our privacy policy.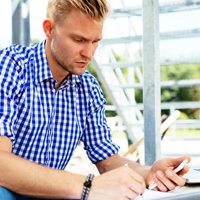 It used to be that "having your head in the clouds" meant you were out of step with the world. But today, being in the clouds is a smart business move. Cloud-based computing offers some distinct advantages, especially when combined with today's high-speed Internet services. Take a look at why more small businesses are turning to the cloud for their accounting systems.
First a Quick Lesson
Just what is the "cloud?" When something is "in the cloud," it means that it runs or is stored on the Internet instead of your computer. That includes your email, contacts, photos, apps, data, documents, and calendar.
It's not actually stored in the heavens but on remote servers. For example, when you watch streaming video, you're accessing a cloud server that delivers it to your smartphone, tablet or computer. With high-speed Internet, you're able to access large amounts of data quickly.
The big draw of the cloud is its convenience and reliability. You can access the things you need anywhere with an Internet connection. If your computer is damaged or lost, your information is still waiting for you in the cloud.
Cloud-based Accounting Adds Up
There are a number of benefits to adopting cloud-based technology to your accounting system. Here are some of the reasons why small businesses find it attractive:
Get a true picture of cash flow – Helps you better track what money you have and where it's going. Some systems integrate with your financial institution. So as you pay an invoice or receive payments from a customer, you see in real-time where you stand. That can help you make better decisions.
Ditch the paper – Virtually eliminates the paper trail since all documents are electronic. That means you no longer have to process and file paper then retrieve it later. And it's more environmentally friendly. Some smartphone apps can capture all of your receipts and automatically post it to your accounting system.
Generate useful reports – Many cloud-based systems provide useful reports, including financial statements. Some take your income data and calculate how much you will owe each quarter in estimated income taxes. That is especially helpful for self-employed owners.
Provide anytime access – No need to carry your computer with you to get the information you need. It's available when you're on the go, 24-7. Say you're with a supplier and you learn that she just gained access to new inventory. You can check your current inventory to see what's needed, determine what cash you have available, and pay for it—all from your smartphone.
Lowers acquisition and operating costs – Buying new hardware can be expensive, especially for small businesses. Cloud systems allow you to pay as you go with the predictability of a monthly service fee. In addition, the service takes care of any updates, including security updates. So you spend less time having to maintain the system yourself.
Having your small business in the clouds might be a smart move. Consider these benefits to determine whether it's right for your accounting system. Want to investigate some of the options available? Take a look at PC Magazine's review of Best Online Accounting Systems for 2016.
Get TheWire Delivered to Your Inbox
The trends, insights, and solutions you need to grow your business.
By signing up, you're subscribing to our monthly email newsletter, The Wire. You may unsubscribe at any time.
Your information stays safe with us. Learn more about our privacy policy.