How to Convert E-Commerce Traffic Into Sales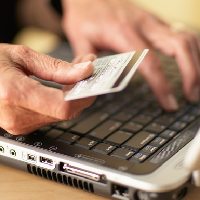 When it comes to online sales, the good news is you can reach more consumers in more ways than any brick-and-mortar business could ever imagine. The bad news is you have to convert e-commerce traffic with virtually none of the cues that come with personal selling. No smiles, handshakes or compliments, and no, 'can I ring this up?'
So how does a business go about converting traffic into sales in a digital setting? Surprisingly, by stealing some pages from the brick-and-mortar playbook. Follow along:
Create A Welcoming Setting
An online visitor wants to feel welcome, appreciated and tended to, just as he or she would in your physical store. A site that's pleasing and easy to navigate will encourage him or her to stay and browse for a while. Make it easy to locate products and find information such as prices, write-ups and anything else that may help a consumer make an informed decision.
Make Contacting You Easy
Some business sites make it very difficult for visitors to access phone numbers or addresses, mainly because they'd prefer to keep the online experience online. Don't be tempted to discourage visitors this way. While fewer phone calls may make your life easier, the ability to contact a live person when necessary is an important component to a possible sale.
Feature Customer Reviews
Online visitors want to know what others are saying about your business, product and experience working with you. Dedicate some prominent space on your site to customer reviews, and encourage those who've bought from you to leave reviews of their own. Not only does it help consumers make a decision to buy, it also sends a message of transparency.
Develop Special Online Offers
To encourage sales and create a sense of urgency, feature online offers that run for a limited time and change them out periodically. Most offers you can run in your physical store can be duplicated online, such as BOGOs and punch cards. You may also want to consider an online loyalty program. For insights into creating one, check here.
Refine Your Search Efforts
Think about what your potential customers want from you, then put it into everyday phrases, such as 'petite dresses' or 'mid-century modern tables.' Use these to create key word campaigns and develop Google AdWords efforts around them. By refining how you search, you can attract leads that are more qualified and likely to buy. For insights into Google AdWords campaigns, check here.
Make Paying Simple
Once a visitor has decided to buy, the last thing you want to do is discourage them by making the payment process difficult. First, consider your typical customer and decide which online method of payment they prefer. If it's credit card, lead with this option. If it's PayPal, make this the focus. If you use discount codes or special offers, make it easy for customers to apply them.
Reward Repeaters
If someone buys from you, make him or her instant members of any email incentive programs. Give them a reason to come back, such as a percent off coupon or gift certificate. To enhance the experience, integrate your online efforts with conventional ones, for instance, by mailing new online customers post cards with offer codes or other incentives.
Converting e-commerce traffic into sales is different than selling in a brick-and-mortar environment. The more you understand the nuances between them, the more successful you'll be.
Get TheWire Delivered to Your Inbox
The trends, insights, and solutions you need to grow your business.
By signing up, you're subscribing to our monthly email newsletter, The Wire. You may unsubscribe at any time.
Your information stays safe with us. Learn more about our privacy policy.