Winter Is Coming
Get TheWire Delivered to Your Inbox
The trends, insights, and solutions you need to grow your business.
By signing up, you're subscribing to our monthly email newsletter, The Wire. You may unsubscribe at any time.
Your information stays safe with us. Learn more about our privacy policy.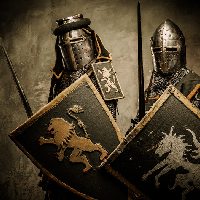 "Winter is coming." Fans of the HBO series, Game of Thrones, recognize this as the call to vigilance for House Stark. Small business owners know it's a signal to prepare for an epic battle in the kingdom of commerce - the holiday season. At stake in this clash is as much as 30 percent of a retailer's annual sales, according to the National Retail Federation. But fear not warrior entrepreneurs, here are some holiday marketing tips to help you emerge victorious.
Review the Troops
Review your staffing needs to determine if you have enough firepower to meet the holiday demand. Start by looking at last year's performance. Were their breaks in service levels? What did you try that went well? Involve your current staff in the discussion. They're likely to uncover issues you hadn't considered. And you'll build engagement as they become part of the planning process. That will be useful if you need to increase staff hours. Don't forget training, especially in holiday-specific matters, like returns.
Ready Your Battle Plan
Take the time to plan your holiday marketing strategy. It should start with pre-holiday activity and continue through post-holiday returns. Break it down into what activities you'll do each week. Think about segments within your market - gifts for grandparents, gifts for kids, gifts for pets. Decide how you'll let customers know about your promotions. Last year, nearly one out of four holiday shoppers took advantage of promotions they received in an email. Be sure the messages can be easily read on mobile devices.
Stockpile Munitions
In the heat of battle, it's difficult to stop and reload. So do what you can in advance and you'll be ready. For example, review your customer contact list. Do you have current emails and addresses? Have you added new customers? One business lets people sign up for advance notice of sales if they provide their email address. Another idea is to develop your social media messages in advance. Services like Hootsuite will let you create and schedule all of your posts at one time. That ensures that you will have fresh messages throughout the season without you having to take time each week to post them.
Lower the Drawbridge
Your website is often the entry point to your business. So make sure it's an easy entrance. Be sure your address is current and include a link for directions to your business. Update your holiday hours of operation, if they are different. Consider adding a "Contact Me" button to make it easy to get in touch with you. That's especially helpful for customers on their smartphones. If you're an ecommerce business, consider doing load testing to ensure customer orders can get through.
Establish a Lookout
Decide, in advance, how you will monitor the ongoing holiday battle. It might be average sales per day, average sales per staff, time customers wait in queue, open rates in promotional emails, or store traffic. It will likely be a combination of measures. Having a consistent measure helps you identify trends and then react—while there's still time. Share these daily metrics with your staff. It helps to reinforce your expectations and ensures all soldiers are working toward the same goal on the battlefield.
The battle for market share during the holiday season can get intense and the stakes are high. That's why it's important to prepare now using these holiday marketing tips and claim your spot on the throne of success.
Get TheWire Delivered to Your Inbox
The trends, insights, and solutions you need to grow your business.
By signing up, you're subscribing to our monthly email newsletter, The Wire. You may unsubscribe at any time.
Your information stays safe with us. Learn more about our privacy policy.