Top 5 Tips to Stretch Your Marketing Dollar
Get TheWire Delivered to Your Inbox
The trends, insights, and solutions you need to grow your business.
By signing up, you're subscribing to our monthly email newsletter, The Wire. You may unsubscribe at any time.
Your information stays safe with us. Learn more about our privacy policy.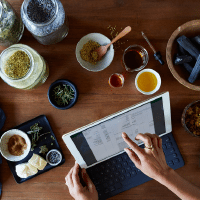 Some think "marketing" means having a commercial on TV, a billboard, and newspaper ads. But what if you don't have the money to do that? The reality is, you don't have to. You can effectively market on a budget. The key is not to think about flashy tactics. Instead, focus on the ones that will get you noticed in your market. Here are five tips to stretch your small business' marketing dollar and still get results.
1. Know your target.
Stretch your budget by spending it where you'll most likely reach the right people. Who are you trying to target? Where do they hang out? How can you help them? Your answers help you identify who the "right people" are. That will help you make better marketing choices.
Say you have a locator service that helps people in their 20s find affordable apartments. They're not traditional newspaper readers so you won't reach them there. But, they read their college's online news feed. So focus your promotions there instead.
2. Get social.
Talk is cheap so start a virtual chat with potential customers on social media. The idea is to develop relationships that over time will help grow your business. It's easy and inexpensive to start. Facebook has a tutorial that will show you how to start a free page for your business. Then post content that interests your target market and let the conversation begin.
3. Pay as you go.
Most social media sites and search engines offer ad space. Google AdWords is one example. Your ad can be placed on the webpages where your target market hangs out. And payment is often on a pay-per-click basis. That means you pay only when someone clicks on your ad. So your marketing dollars go farther. You can also specify a fixed amount you want to spend. That helps you budget better for marketing expenses.
4. Stay local.
Raise your visibility by supporting a local organization in your community. Choose a project that fits with your business. For example, a bookstore might sponsor refreshments at an area school's Parent Night. Sponsorships like these often include mention in the program or an announcement from the speaker. Have parents sign up to win a collection of children's books. Use the signup information to contact parents later thanking them for attending. Invite them to signup for your newsletter.
5. Partner up.
Consider partnering with a complementary business to do joint promotion that benefits both of you. For example, a travel agent could pair up with a store that offers travel merchandise. Each targets the same customer but with noncompeting offerings. They could offer in-store promotions that refer customers to each other with a special offer. Both businesses reach more people than they could separately.
You don't have to go big to get the attention of your target market. Consider these budget-friendly ways to promote your small business without breaking the bank.
Save
Get TheWire Delivered to Your Inbox
The trends, insights, and solutions you need to grow your business.
By signing up, you're subscribing to our monthly email newsletter, The Wire. You may unsubscribe at any time.
Your information stays safe with us. Learn more about our privacy policy.