Promotional Offers to Drive Veterans to Your Door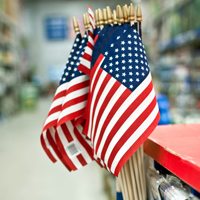 While veterans come from many walks of life, they all have two things in common: the fact that they've served their country well and that they deserve to be recognized. Many big brands, like Baskin-Robbins and Cracker Barrel, are already doing the latter, but small business can also get in on the action.
Restaurants
While a percentage discount for veterans is typical in the restaurant business, there are other ways to entice them. Designate 'veterans night' on a special day of the week and encourage vets and their families to come in for specials. For a sampling of military-themed cocktails, check here. If you operate in a military town, you may have the customer base to go all in and create a military-themed bar or restaurant.
Tax and Financial Advisors
Many veterans return from duty with a variety of financial housekeeping issues to attend to. Oftentimes, it can be overwhelming. Offering free help filing tax returns, reconciling finances or structuring debts to make them manageable can prove immensely helpful and lead to loyal customers.
Mechanics
The cost of maintaining a vehicle can be expensive for anyone, let alone veterans. By offering a deal on routine maintenance, you can cross-sell additional services, such as detailing. For those vets who are fans of pickup trucks, offering a bed-liner or plow package could net you additional business. By specializing in wheelchair customization, you can also win new fans.
Attorneys
Pro bono legal assistance can help veterans navigate and overcome a variety of issues. Help out by offering to review landlord contracts or offers to buy a home. Denied health coverage claims can be especially devastating to vets looking to gain a foothold on life after the military, and offering to assist can be a tremendous benefit.
Small Manufacturers
Do the products you make translate well to the military? If you're a screen printer, consider camouflage or patriotic themed designs, which always sell well. If you manufacture flags, bumper stickers, coffee mugs, pens and other novelty items you might consider special designs for vets.
Creative Artists
Patriotic songs are especially popular. If you're a struggling musician or band, you may gain popularity covering existing songs or writing your own tributes. If you're a photographer, discounted packages for vets and their families may pull in additional business. If you write well, helping veterans craft resumes and cover letters can be a big help.
A Word About Disabled Veterans
According to statistics provided by the disabilitycompendium.org, there were 1.8 million disabled American veterans in 2013, and the number continues to rise. While the Americans With Disabilities Act has required small businesses to make certain accommodations, the needs of disabled veterans can be unique and diverse. Knowing more about these potential customers is key to gaining their loyalty. For insights, check out this checklist developed by the NRCS.
Veterans are a diverse and valued segment of consumers that provide many opportunities for small businesses. For more inspiring ideas on tapping the veteran market, check out how some big brands are going about it.
Get TheWire Delivered to Your Inbox
The trends, insights, and solutions you need to grow your business.
By signing up, you're subscribing to our monthly email newsletter, The Wire. You may unsubscribe at any time.
Your information stays safe with us. Learn more about our privacy policy.