Harvest the Marketing Potential Lurking Behind Halloween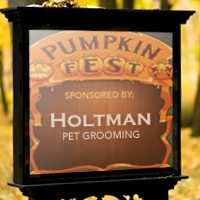 If Thanksgiving is your kickoff to the holiday shopping season, you may be too late. The fall holiday that's creeping up on businesses is Halloween. The National Retail Federation (NRF) reports that consumers will spend a frightening $6.9 billion this year for Halloween. And it's not all candy. Look at how you can use Halloween-themed promotions to scare-up extra revenue for your small business.
Retail establishments often have the most direct tie to Halloween. The NRF projects that the average person will spend nearly $75 on items like candy, decorations and costumes for the family (and the family pet). But they aren't the only businesses that can benefit from this marketing potential.
Here are ways that non-retail businesses can capitalize on the Halloween craze this season:
Color Yourself Orange
It's not necessary for your staff to dress up as characters from the Wizard of Oz to get customers' attention. There are ways to subtly leverage the Halloween spirit. For example, use orange and black as the color for your social media posts or your newsletter. It recognizes the excitement of the season but keeps it low-key. That might be important for more serious businesses like a legal practice or a financial firm.
If You Can't Beat 'Em, Join 'Em
A pediatric dental practice may not want to provide sugary treats for its young patients. But they could use it as an opportunity to educate children on proper brushing techniques. What about passing out sacks of treats to a local school that includes branded toothbrushes and floss? Or pass the treats out to parents of the children at the next PTA meeting.
Sponsor a Costume Contest
A photographer could promote her business by sponsoring a costume contest (for kid or pets, or both). What parent wouldn't want a photo of their loved one that they can share with others? Prizes could be awarded for best costume. Winners' photos could be posted on the business's social media pages. Encourage them to "share" it with their contacts. It's a great way for others to learn about your business.
Monster Sales
Consider running a Halloween-themed sale. It might be a way to test a promotion that you can run later in the season, but with a holiday theme. Another variation is to offer discount coupons during Halloween that can be used later in the season. It's a great way to encourage repeat sales.
Community Service Projects
During the holidays, many organizations adopt families in disadvantaged areas and purchase gifts for children. Businesses could launch a similar promotion but instead supply costumes for the children. Customers tend to be more loyal to businesses that give back to their community.
Treat your business early this season by taking advantage of the rising popularity of Halloween among consumers. It's a chance to kick start what is a prime earning season for many small businesses.
Get TheWire Delivered to Your Inbox
The trends, insights, and solutions you need to grow your business.
By signing up, you're subscribing to our monthly email newsletter, The Wire. You may unsubscribe at any time.
Your information stays safe with us. Learn more about our privacy policy.