Dispelling the Affiliate Marketing Myths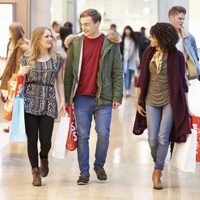 Affiliate marketing has been used by businesses for over 20 years. But rumor has it that this marketing tool has become a little long in the tooth. Has it outlived its usefulness? Take a look at these common myths about affiliate marketing to see how it can still add value to your small business.
What is Affiliate Marketing?
Think of affiliate marketing as an alternate way to promote your business. Say you have a product or service that you want to sell. So you join forces (or affiliate) with another organization to place ads on their digital property. It might be a website or a blog that already has the attention of people who might be interested in your offering.
Then you pay a fee or commission to the affiliate for every lead or sale they drive back to you. The activity is tracked by a marker or "cookie" that gets placed when a person visits the affiliate's digital property and clicks on your ad.
Your small business can benefit from this tool in several ways. It can generate more sales. Or, you can earn a commission by allowing other companies to advertise on your digital property. With the right affiliate, you can also learn from each other and gain a deeper insight into your market.
Don't Believe Everything You Hear.
Affiliate marketing sometimes gets overlooked. Let's clear up a few misconceptions that will help you make better use of this strategy.
Affiliate marketing is a quick way to ramp up sales.
Affiliate marketing isn't like creating a search engine ad, setting your price and clicking "go." It takes time to pick the right affiliate. You want a partner who will attract customers that you may not have otherwise reached. So it might be more appropriate when expanding to a new market. Think of this as a longer-term strategy.
Affiliate marketing does all the work.
Yes, affiliates can drive additional traffic to your website. But that doesn't mean you'll realize more sales. You have to be ready when visitors come to your site. How easy is it for customers to buy from you? Do you provide enough information? What payment options do you offer? Factors like these will determine whether you can convert that lead into a sale.
Affiliate marketing can damage your SEO ranking.
It's true that search engines like Google are constantly changing the way they calculate ranking. If you choose affiliates that spam or use other questionable practices, your ranking may be negatively affected. But search engines continue to give higher marks to sites that provide relevant and timely information to consumers. Another reason to pick the right affiliate.
Affiliate marketing commissions are easy money.
You can extend the return on your website by letting other companies advertise on it. But the commissions you receive don't necessarily come free. There are costs to add and maintain the ads. In addition, you will want to provide fresh content to your website in order to deliver leads to your advertisers.
When used appropriately, affiliate marketing can help to grow your business. Learning from misconceptions about it can help you better use this resource.
Get TheWire Delivered to Your Inbox
The trends, insights, and solutions you need to grow your business.
By signing up, you're subscribing to our monthly email newsletter, The Wire. You may unsubscribe at any time.
Your information stays safe with us. Learn more about our privacy policy.