6 Steps to Email Marketing
Get TheWire Delivered to Your Inbox
The trends, insights, and solutions you need to grow your business.
By signing up, you're subscribing to our monthly email newsletter, The Wire. You may unsubscribe at any time.
Your information stays safe with us. Learn more about our privacy policy.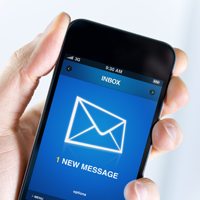 There's a reason your email inbox is continually filled with offers from businesses across the globe—it's because email marketing works. To reap the benefits of email marketing and create an email strategy that works, follow the six steps outlined here:
Set Clear Objectives
Don't email without a clear objective and call to action in mind. If you want recipients to sign up for your newsletter, make it clear from your subject line to your call to action. If you want them to compare your prices to your closest competitor's, include a link to a chart that highlights costs.
Test Several Subject Lines
Your first opportunity to grab someone's attention is with your subject line. In addition to making it catchy, have two or three more lined up to test. Not everyone reacts the same way, and if one doesn't work, the next one might. To expedite the process of finding the winners, send out the same email with several different subject lines and see which ones get opened most.
Stay on Point
Once you know what you want to say in your email, be quick and efficient about it. Don't waste the recipient's time with long lead-ins or vague promises. If you're installing windows at half the price, lead with this. If you're looking for donations to save wildlife in a Brazilian rain forest, ask up front. A recipient who clicks through to your content is a gift. Don't squander it by wasting their time.
Reward Responders
When someone responds positively to your email, immediately elevate them to a higher level of contact and service. Reward them with a special offer or discount or membership in an elite email club. Whatever you do, do not take responders for granted. They can leave you for good with the click of a button.
Make Opting Out Easy
Yes, you read this right, and perhaps it goes against your salesperson nature, but putting obstacles in the way of contacts that want out will only aggravate them. Put the 'unsubscribe' link somewhere they can see it. If they want to unsubscribe, you've already lost them, and frustrating them further could lead to negative referrals or a rant on social media
Optimize for Mobile
According to the Pew Research Center, nearly two-thirds of the U.S. population owns a smart phone. This means that some of them are likely to be checking email on their device. If your content is too small to read or not mobile friendly, your chances of being read are slim to none. For tips on creating user-friendly mobile emails, check out Inc.com.
Bonus Tip: Analyze Your Email Data
Crunching email data is something every business should do if it wants to be serious about email marketing. Knowing click-through, response and unsubscribe rates are just some of the data that can help you improve your email strategy. If you don't have the resources, email marketing firms like Constant Contact and others do. Enlist one if you're serious – it could pay off in the long run.
Email marketing is cost-effective, flexible and responsive. By using the tips listed here, you can also make it an effective strategy for your small business.
Get TheWire Delivered to Your Inbox
The trends, insights, and solutions you need to grow your business.
By signing up, you're subscribing to our monthly email newsletter, The Wire. You may unsubscribe at any time.
Your information stays safe with us. Learn more about our privacy policy.