Why You Should Convert to an Instagram Business Account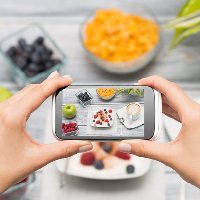 Looking for a way to stand out, get intel on your current customers, and find new ones? You can with an Instagram Business account. It's a new way to tell your story using pictures and video. And it's free. Not convinced yet? Here are some reasons why you should consider converting your Instagram profile to a business account for your small business.
Customers Are Watching (and so are other businesses)
You know the expression, "a picture is worth a thousand words?" That's the power of Instagram. Instead of telling your story, you can show it by sharing photos and short videos taken on your smartphone. People view them on the Instagram app or on other social networking platforms like Facebook, who purchased the company.
In the U.S., there were an estimated 77 million active Instagram users in 2015. Nearly half of all larger companies use Instagram to market to their customers. And small businesses are joining the ranks.
New Tools Help You Grow
You may be using Instagram for your business. But now you can go further if you have a business profile. Instagram recently launched these new tools for businesses:
Business profiles – Establishing a profile makes it easy for customers to contact you. With a tap of the "Contact" button, customers can call, text or email. You choose how you want them to get in touch. In addition, it provides directions to your business from their current location. That helps you stand out, especially with mobile users.
Insights – Instagram provides reporting that gives you insights into your customers' behavior. For example, it lets you know which of your posts are more popular. That helps you zero in on the kind of content that your customers like. You also get demographic information on who's viewing your content. That helps you better target your marketing promotions.
Promote – This tool lets you turn popular posts into ads so even more people will see it. That helps you connect with potential new customers. You select the target market for these paid ads or Instagram will suggest targeting for you. Then the ad runs for as long as you want.
It's Easy to Start
It's easy to set up an Instagram business account or to convert an existing account to one. Here's a video that shows you how. You can connect it to your business Facebook page and it will automatically share posts with your Facebook followers too.
Consider whether the Instagram business account is right for your small business. The new tools it provides can help you stand out among the competition, learn more about your customers, and spread the word to new ones.
Get TheWire Delivered to Your Inbox
The trends, insights, and solutions you need to grow your business.
By signing up, you're subscribing to our monthly email newsletter, The Wire. You may unsubscribe at any time.
Your information stays safe with us. Learn more about our privacy policy.