Timing is Everything: The Best Times to Post on Social Media
Get TheWire Delivered to Your Inbox
The trends, insights, and solutions you need to grow your business.
By signing up, you're subscribing to our monthly email newsletter, The Wire. You may unsubscribe at any time.
Your information stays safe with us. Learn more about our privacy policy.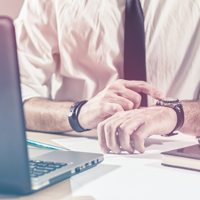 Just one hundredth of a second changed the course of history in 2008. That's how much time gold-medalist Michael Phelps won the men's 100-meter butterfly by at the Beijing Olympics. Timing is everything. The same thing is true when timing your message to customers on social media. When you post can be as important as what you say. Find out what research has to say about the best time to post on social media. Then medal with your customers by providing information timed just for them.
Social Media by the Numbers
CoSchedule, a company that advises clients on social media, has compiled research from a number of sources. Here's what they found about the best times to post on several social media sites:
  Facebook
The highest engagement is on the weekends between noon and 1:00 p.m. The next highest rate is leading up to the weekend, on Thursday and Friday between 1:00 – 4:00 p.m. Funny or upbeat content seems to fit well at those times. Interestingly, posting at 3:00 p.m. will get the most clicks. But if you want more "shares," post at 1:00 p.m.
  Twitter
Tweets posted on Wednesday around noon and 5:00 – 6:00 p.m. score highest. Next is midday Monday through Friday at noon to 3:00 p.m. That's because it tends to be used during work breaks or while commuting.
  LinkedIn
This is used primarily during the work day. So the best times to post are before and after work (7:00 – 8:00 a.m., noon, and 5:00 – 6:00 p.m.). Midweek between Tuesday and Thursday is the highest producing time period. In particular, Tuesday between 10:00 – 11:00 a.m. is the sweet spot.
  Pinterest
Users tend to be most active in the evenings while watching TV or during free time. They also tend to be female. The best time to post is between 8:00 – 11:00 p.m., especially on Saturday. Next is between 2:00 – 4:00 a.m. every day.
Find Your Best Time
Be careful about applying these findings to your business. They represent averages. The "best" time for your customers may be different. That's why it's important to use the tools available on the websites to dig deeper. For example, Facebook has a tab on business pages called "Insights." When you click on "Posts," it will tell you by day and hour when "fans" of your page are online. That will help you better target your customers when they're most likely to be on Facebook.
Twitter has a similar feature called, "Twitter Analytics." And Pinterest provides activity stats using their Pinterest Analytics tool. Each gives you information about when your customers are on their social media site.
Make timing an important part of your social media strategy. Use the tools within each site to zero in on your customers. Then determine when's the best time and day to post. You'll set records for most connections with your small business' customers.
Get TheWire Delivered to Your Inbox
The trends, insights, and solutions you need to grow your business.
By signing up, you're subscribing to our monthly email newsletter, The Wire. You may unsubscribe at any time.
Your information stays safe with us. Learn more about our privacy policy.