New Facebook Features to Feed Your Business Page
Get TheWire Delivered to Your Inbox
The trends, insights, and solutions you need to grow your business.
By signing up, you're subscribing to our monthly email newsletter, The Wire. You may unsubscribe at any time.
Your information stays safe with us. Learn more about our privacy policy.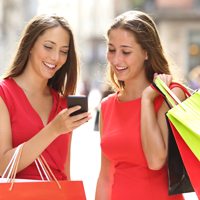 Small business owners need to put on their game faces if they want to play in today's competitive market. And for over 41 percent, having a business Facebook page is now standard-issue equipment. But having a page is just the start. Keeping up with Facebook's playbook helps you get the most from it. Here are five new plays they're offering. See if they'll help your small businesses make that next big score.
Page Messaging
Say a customer has a question but doesn't want everyone to see your reply. This lets them send private messages to your business. You reply privately with the answer. But, be ready to respond promptly. You'll be rewarded with a "Very Responsive" badge on your profile if you respond to 90 percent of these messages within five minutes or less. That's a plus for would-be customers. Here's more on how to use Page Messaging.
Bigger Buttons
Customers on their mobile devices want to take action quickly. That's why Facebook made the call-to-action buttons bigger. So actions like "Contact Me," "Shop Now," or "Sign-up" are easier for customers to find. Here's how to add a call-to-action button to your page.
Be a Beacon
Get a free device from Facebook. It sends information to people who are nearby. They must be on Facebook and have their Bluetooth turned on. Imagine being able to invite someone near your store to check in. It asks them to "like" your page and shows what their contacts say about you. Here's how to get a Bluetooth Beacon for your business.
Save Time
Take advantage of the "saved replies" feature. It allows you to archive replies you may post for frequently asked questions. For example, "Do you offer free delivery?" You can even customize the reply so it doesn't look like you're sending a boilerplate answer. Save some time by learning about the Save Reply feature.
New Mobile Sections
You will be able to add new sections to your mobile Facebook page—Shop, Services, Photos. This gives you a chance to organize the content on your page so visitors can quickly locate information. That's especially important to mobile users (who are fast becoming the most frequent visitors).
Make sure that your small business is up for game day. Take advantage of the newer features offered by Facebook. It will help you maximize your investment in social media and increase your visibility among current and future customers.
Get TheWire Delivered to Your Inbox
The trends, insights, and solutions you need to grow your business.
By signing up, you're subscribing to our monthly email newsletter, The Wire. You may unsubscribe at any time.
Your information stays safe with us. Learn more about our privacy policy.