Facebook is Curbing Organic Reach – Now What?
Get TheWire Delivered to Your Inbox
The trends, insights, and solutions you need to grow your business.
By signing up, you're subscribing to our monthly email newsletter, The Wire. You may unsubscribe at any time.
Your information stays safe with us. Learn more about our privacy policy.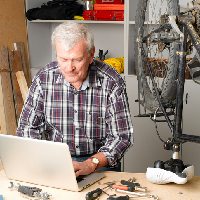 You probably heard this summer that Facebook is changing what order posts appear in your customers' news feed. Posts from family and friends come first. That's understandable. But that means your followers may have to scroll down more to see your non-paid (organic) posts, or they may not see them at all. Does that blow up your social media plans? Not necessarily, it just means you need to be smarter about how you use it. Learn more about these changes and about increasing organic reach.
The key to understanding these changes is that Facebook displays posts in the order it thinks is most relevant to the subscriber. "Relevancy" is determined by how engaged the person is with a post. Do they like, share, or comment on your post? If so, they'll likely appear higher in the feed.
If you want to be near the front of the line, get your followers more excited about what you put on your page. Here are some ideas to increase your reach:
Inform, don't sell – Most people hate when their favorite program is interrupted by commercials. The same is true of Facebook fans. They want to be informed about things that matter to them, tie your special offer or sale into informative and helpful information. So, don't just post your weekly special on oil changes, also give them information on why oil changes are important. They'll "like" that timely information and that helps put you higher in their feed the next time you post.
Post often and at the right time – Your followers are more likely to see your posts at certain times. How do you find out when people are looking at your page? Use the Business Page Insights tools on Facebook. The Posts section tells you by day and hour when "fans" of your page are online. If you want to increase engagement, post at those peek times - when they're looking at your page.
Show them how-to – Video posts are becoming increasingly popular. Facebook reports that their users view more than 4 billion videos a day. Increase engagement by posting a "how to" video on your page. Demonstrate how to solve a common problem. For example, a pet store could create a video on what to do if your dog gets loose while you're on a walk.
Buy ads – You can boost your content by paying Facebook to have specific posts appear in the news feed. Think of it like placing an ad on the first page of a business directory. It's more likely to be seen there. Facebook lets you control which posts you want to boost. The cost is comparable to other mediums and you can track results. Read "Pay for Play" to learn more. Start with a small budget and experiment with what audience targeting and messaging works.
Get Trendy – Facebook tends to give higher ranking to posts about topics that are trending. Look for the "Trending" section in the desktop view of your news feed. It lists news items that are getting the attention of Facebook fans. There's a section for politics, sports, entertainment, and science/technology. Post content that relates to one of these topics. For example, a sports store could post tips on how to treat a muscle strain like a celebrity jogger who's trending.Changes in the Facebook formula don't need to slow down your social media activities. The key is to provide relevant content to your fans. Consider whether one of these ideas is right for your business Facebook page.
Save
Save
Get TheWire Delivered to Your Inbox
The trends, insights, and solutions you need to grow your business.
By signing up, you're subscribing to our monthly email newsletter, The Wire. You may unsubscribe at any time.
Your information stays safe with us. Learn more about our privacy policy.