Creating Social Media Content that Works
Get TheWire Delivered to Your Inbox
The trends, insights, and solutions you need to grow your business.
By signing up, you're subscribing to our monthly email newsletter, The Wire. You may unsubscribe at any time.
Your information stays safe with us. Learn more about our privacy policy.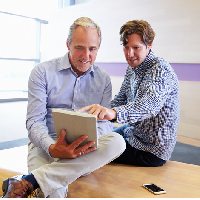 It used to be that consumers asked a friend before they bought something. That's still true today, but increasingly the conversation happens online. In fact, nearly three out of four consumers purchase based on social media referrals. So how do you get your small business noticed in that discussion? Provide content your customers can use. It's key to attracting leads, creating community, and increasing brand awareness. Check out these tips for creating social media content that works.
Stop Looking and Start Listening
One of the best ways to uncover content ideas is with your ears, not your eyes. Listen to what customers are talking about. What questions do they ask? What conversations do they have with other customers? These are all excellent sources for your next post. That's because they're about topics that are relevant to the challenges your customers face. Monitor what issues come up in your followers' feed. Engage with customers when they're checking out. Some businesses use feedback from online surveys to identify potential topics.
Channel Mrs. Winkleman
Your high school English teacher was right. Spelling and grammar do matter. There's nothing that will ruin your credibility more than having a careless mechanical error in your post. It stops the reader and turns the focus on your error, not your great content. Proofread your content before posting. Don't rely solely on spellcheck - "angels" is spelled correctly but it's not the word you want if you're posting about the "angles" of your favorite architecture.
Focus on What You Don't Say, Too
Sometimes, it's what you don't say that counts. Be careful about the use of keywords in your content. Many search engines have gotten wise about the overuse of keyword phrases. In fact, they penalize businesses that over use them. That's because the emphasis should be on information that is relevant to the reader, not how many times you use a term just to get a higher search ranking. Check your post to see if the keyword phrase is used too many times. Look for other words to say the same thing.
Make a Plan
It's hard to come up with new content week after week. That's why it's helpful to start with an editorial plan. The plan is a list of topics for the next month or so. It's usually organized around families of topics. For example, the plan for a hardware store might include categories like: preventive maintenance, the latest gadget, do-it-yourself projects. The advantage of this approach is that it forces you to think about how your business goals intersect with topics that interest your target market.
Check the Mirror Before Going Out
Remember that good content is more than the words you use. It's also how they look on the page or screen. People tend to scan information so make it easy for them by paying attention to how you organize content. For example, use short paragraphs, subheads, and bullet points to visually break up the information into bite-sized pieces. And consider adding an image or video as part of your content. Both attract attention and help you tell your story in a compelling way.
Good content can help you break through all of the noise in social media. That can mean more leads and more customers. Start with these tips to create content that gets you noticed.
Get TheWire Delivered to Your Inbox
The trends, insights, and solutions you need to grow your business.
By signing up, you're subscribing to our monthly email newsletter, The Wire. You may unsubscribe at any time.
Your information stays safe with us. Learn more about our privacy policy.