5 Easy Tools to Take Your Social Media to the Next Level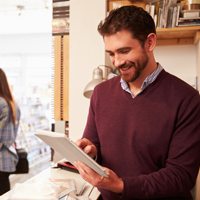 Whether you're a novice or an expert, there are social media tools you can use to up your business's game. Here are some of the best at helping you make the most of your social media strategic marketing efforts:
1. Facebook Graph Search
How well do you know your friends? If you operate a Facebook business page, the answer to this can be found in Facebook Graph Search. It provides insights into the people who drop by, post and click through links on your site, such as what other pages they like and what kind of music they prefer. The result? A robust profile of those who matter most, so you can tailor your marketing accordingly.
2. Simply Measured
Clear, concise analytics are at your fingertips when you access any of Simply Measured's catalog of reporting tools. In exchange for a shout out to the Twitterverse that you're using a Simply Measured report, you can analyze LinkedIn, Twitter, Facebook, Instagram, Google+ and even website activity for free. (Now that's what you might call a tweet for tat agreement.)
3. Social Mention
Remember the first time you googled yourself and saw your name actually mentioned? Businesses now have the same capability with Social Mention, an aggregator that combs the web and returns with a report on all of your business name mentions. The data is then segmented into useful bites that shed light on how the web views your business.
4. Followerwonk
So your business has a lot of followers on Twitter…but are they the followers you want? Follwerwonk is a handy application that breaks down your audience into manageable groups and graphs them in a way you can easily digest.
5. Excel (Yes, Excel)
Who'd have believed that one of the earliest applications known to business could be one of the most effective today? At its core, Excel allows anyone with a minimum of training to chart, track and analyze data, even if it's coming through social media channels. And that's what makes Excel such a versatile old-school tool for this new-age medium.
Tip: In the Right Hands
While these tools can provide your business with useful, relevant data, they're only as good as the person using them. A savvy social media expert (possibly you, but more possibly not you) will take the time to learn these applications and test their limits.
If you have the ability to do so, you should consider taking on this responsibility; however, you also have a business to run. Social media, while increasingly important, is still just a fraction of your job. Which is why many business owners hire or contract with an expert. With this in mind, feel free to adopt the tools that work best for your business and put them in the hands of an expert. Then watch your social media savvy propel your business in ways you only imagined possible.
Get TheWire Delivered to Your Inbox
The trends, insights, and solutions you need to grow your business.
By signing up, you're subscribing to our monthly email newsletter, The Wire. You may unsubscribe at any time.
Your information stays safe with us. Learn more about our privacy policy.