Creating Brand Awareness With a Successful Content Calendar
Get TheWire Delivered to Your Inbox
The trends, insights, and solutions you need to grow your business.
By signing up, you're subscribing to our monthly email newsletter, The Wire. You may unsubscribe at any time.
Your information stays safe with us. Learn more about our privacy policy.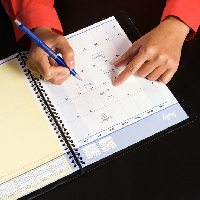 Branding and content go hand in hand, and creating great content is a simple and effective way to raise your company's profile. Best of all, it's easy to do with some planning. Just follow these five easy C's when scheduling in your content calendar, and you'll be building brand awareness in no time.
Consider Your Options
Make an inventory of all the social media platforms you use and how you use them. If you're like many small businesses, you're on Facebook, Twitter and possibly Instagram or Pinterest. You may even be on LinkedIn. The point here is to think of your social media outlets as a whole and not just separate entities. For additional social platform ideas, check here.
Collect Ideas
Take a good look at your marketing plan and determine what activities you'd like to promote or which tactics you'd like to leverage. For instance, let's say you're opening a new location and promoting it with a special giveaway. These are the types of ideas you'll want to include in your content calendar.
But don't stop here. Consider additional content that might be worth posting, especially items that align with your brand. If you sell vintage clothes and vinyl records, an online article or video about retro styles may also be a good add. Strive for a mix of factual, anecdotal and fun items that can round out your calendar.
Create Your Blueprint
Using a table put the days of the month down the side and your social media platforms across the top. As you look at the ideas you collected, pencil them in where they make the most sense. For example, if you're opening a new location for your vintage clothing store, add promotional posts leading up to the big day. So, for Facebook, you'll have a note to highlight the grand opening and include photos of the new location. If you're using Pinterest, you'll have a notation to promote the grand opening, maybe with a board featuring photos of the new location's interior.
Other days of the month might include an interview with the buyer who chooses your clothing, or simply a note saluting the birthday of a designer featured in the clothes you sell. Mix it up, so that visitors get a clear sense of what your brand is all about. Try to have something for each day of the month, if possible.
Develop Copy
Once your calendar is filled with topics, it's time to turn it into copy. Write copy for each post, being mindful of the rules for each platform (i.e. 140 characters or less for Twitter, etc.). If you're having difficulty, enlist a freelancer to write copy or an employee that can do it well. You want the tone and style to be similar across platforms, which will reinforce your brand. For tips on writing social media content, check here.
Be Consistent
When your tone resonates the same across platforms and your images have the same feel, your business will begin to take shape in the virtual world of social media. Fans of your page and viewers of your posts will have a clear sense of your brand and what it stands for. Being consistent ensures this, so it's critical that you stay vigilant.
When you've taken care of the C's you'll have a content calendar that's tailor made to successfully build brand awareness. And that's something to celebrate.
Save
Get TheWire Delivered to Your Inbox
The trends, insights, and solutions you need to grow your business.
By signing up, you're subscribing to our monthly email newsletter, The Wire. You may unsubscribe at any time.
Your information stays safe with us. Learn more about our privacy policy.