Branding in a Local Market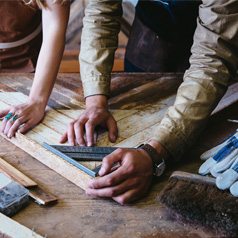 Shop local! It's the battle cry of small businesses everywhere. But before consumers will shop local, you need to market local. That means always staying connected with your community and the people who live there. Then you can apply that information to better relate with your market. Here are some tips and resources to help you promote your small business' brand to the hometown crowd.
Understand Your Appeal
More consumers are getting onboard the "shop local" movement. One study reports that their number one reason is to support the local economy. They understand that a strong economy makes their city a more attractive place to live and work. The second most popular reason is the personal service they receive. That's something they may not get at the national chain stores.
Use these themes in your promotional materials. Highlight that you are a local business with ties to the community. Some businesses hang "we're your hometown business" banners in their shop window or on their website. Emphasize the service that you provide for customers. Testimonials or reviews are great ways to help send that message.
Expand Your Local Intelligence
Learn more about the residents and competitors in your local market. You can use that knowledge to help your brand connect better with the people you're trying to reach. Here are two places to start:
SBA.gov – This Small Business Administration website provides links to a number of free government resources for information. For example, knowing how many working parents are in a community would be helpful for a local grocer who is considering whether to offer the convenience of home delivery.
Market Survey – Conduct an informal market survey. For example, a realtor might ask people in a neighborhood to rank what's the most important feature they look for in a home. If a three-car garage is a favorite, then lead with that feature in your listing.
Give Back
People notice when you give back to the community. In fact, one study reports that 85 percent of customers favor businesses that support a cause they care about. That can increase your brand's visibility. Word of mouth, mentions in social media, or press coverage can all boost your search engine optimization making it easier for new customers to find your business.
But the key to giving back is authenticity. Support organizations that you can believe in. Consider partnering with an organization that complements your small business. For example, a hardware store might donate building supplies to Habitat for Humanity. Or a sports store might donate energy bars to a local running event.
Being a hometown business means connecting with the community. Consider these ideas to learn more about your market so your brand can better connect with the people who live there.
Get TheWire Delivered to Your Inbox
The trends, insights, and solutions you need to grow your business.
By signing up, you're subscribing to our monthly email newsletter, The Wire. You may unsubscribe at any time.
Your information stays safe with us. Learn more about our privacy policy.