Branding With an Emotional Appeal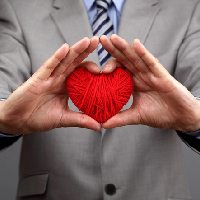 Something special happens when consumers become emotionally invested in your brand. Not only do they buy your product more often, but they also become passionate advocates for your business. This emotional appeal doesn't happen by accident, however. You can create it yourself by following these insightful steps:
1. Let Your Passion Shine Through
You started your business because you had a passion for it. When this passion shines through, consumers can feel as inspired about your products and services as you do—and this emotional bond is powerful.
One way to share your passion is to blog about it on your company site or host live or recorded videos in your social feeds. Give your employees the opportunity to share their love for your brand too, and let customers share their insights by weighing in on reviews and sharing feedback. The more engaged you are, the more your passion for your brand will shine through. For the best small business blogs of 2016, check here.
2. Use Transparency to Your Advantage
The rise of social media, smart phones and other devices means today's consumer sees just about everything. So why not let him or her see why your business is different? Post about your unique reclaimed furniture restoration process or share live testimonials from satisfied customers.
The more you let consumers in on the secrets behind your brand, the closer they'll align with it. One easy way to accomplish this is through customer events, such as invite-only dinners to your restaurant's new location or seminars on home-buying, for instance, if you're a realtor.
3. Show Them Some Personality
Steve Jobs was the face of Apple. Ben & Jerry's fronted their ice cream business. These and other world-renowned brands catapulted to fame on the shoulders of their founders. If you're the type of business owner with a fondness for the spotlight, put your personality behind your brand and let it rise to the top.
Keep in mind, however, that being the face of your company can be demanding, intrusive and difficult at times, so be sure you have the stamina and temperament for the job. To improve your skills, you may want to consider a seminar or class on speaking in public or hire a coach. For additional tips on fronting your brand, these insights can help.
4. Align With A Cause
Some brands have gained emotional traction by aligning with causes that are universally applauded. The 'Dawn Helps Save Wildlife' initiative is a perfect example. The company devotes its products and time to help clean animals impacted by oil spills and other environmental mishaps. The resulting images—of baby ducklings being bathed in Dawn soap—are emotionally priceless.
As a small business owner, take time and care to identify with causes that connect with your brand. For many, these will be initiatives that are close to home and aligned with your business. If you run an automotive repair shop, you may give to charities that restore old vehicles for those who need transportation. If you sell designer clothes, a charity that provides coats for kids in winter might hit home.
No matter what your brand stands for, there are ways to help it resonate emotionally with consumers. By following the steps shared here, you'll be well on your way.
Get TheWire Delivered to Your Inbox
The trends, insights, and solutions you need to grow your business.
By signing up, you're subscribing to our monthly email newsletter, The Wire. You may unsubscribe at any time.
Your information stays safe with us. Learn more about our privacy policy.