Brand Awareness Best Practices: Placing Your Brand Center Stage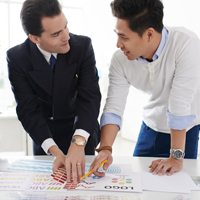 Building a brand and making it stand out can be challenging for a time-pressed small business owner. However, there are best practices you can follow that can make the process easier when executed correctly.
Here are four things you can do right now to make your brand shine bright:
  1. Be Authentic
Instead of trying to be the next Target or the next Starbucks, focus on being the next you. Your brand is like a personality with traits all its own, and each one contributes to the impression the outside world gets when it thinks of your business. If you run a down and dirty auto repair shop that does excellent work, you'll stumble if you try to spiff up and specialize like Midas. And customers will see right through it. Be true to what you are and your brand will be built on a solid foundation.
  2. Rock Your Logo
When you think of McDonalds, you see the familiar golden arches. When you think of Apple, you see the iconic bitten fruit. A great logo is a symbol that will represent your business long after customers have been to your store or website. So, it's important that you get it right.
While a line-item for logo design probably doesn't exist in your budget, spending a few hundred or more for a professionally designed logo will pay for itself in spades. Consider it an investment in brand development. And if it's done correctly, you may never have to change it, like these enduring examples.
  3. Be Consistent
Successful brands don't change on a whim or let outside factors influence what they're all about. When Nike opens a new store, you can guarantee that the "Just Do It" philosophy will be reflected in everything from its merchandising to the sales staff – and that the iconic 'swoosh' will be there. Why? Because consumers expect it, whether they're shopping for Nike kicks in Washington D.C. or looking for Nike outerwear in Portland, Oregon.
Brands that fail usually fall flat in the consistency department. If customer service in your new location isn't up to par with your flagship store, consumers will notice – and talk about it on social media. It's why Nordstrom goes to incredible lengths to make sure every customer in every store is treated like a VIP. And why the Nordstrom brand is synonymous worldwide for stellar customer service.
  4. Turn Customers Into Brand Advocates
In the early 2000s, Krispy Kreme donuts took the nation by storm. So much so, that it seemed everyone knew someone who couldn't stop talking about these delectable breakfast treats. What a tremendous feat for a brand that started out small and turned itself into a household name – all on the strength of word-of-mouth advertising!
People who talk glowingly about your brand are called advocates. They can stretch a limited advertising budget with words of glowing praise and thumbs-up recommendations on social media. Of course, to gain advocates like these, it helps to have a good product or service to sell. But that's something you've already figured out, or you wouldn't be in business.
Building a brand that shines in the spotlight can always be achieved with the right effort. By following these guidelines it can make the job a little easier.
Get TheWire Delivered to Your Inbox
The trends, insights, and solutions you need to grow your business.
By signing up, you're subscribing to our monthly email newsletter, The Wire. You may unsubscribe at any time.
Your information stays safe with us. Learn more about our privacy policy.