We Hire Heroes: Big Bonus to Hiring Veterans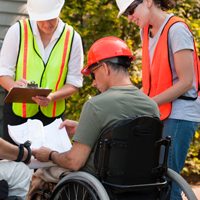 It's well established that veterans possess many of the skills that make hiring them beneficial. Leadership, the ability to take direction and a high regard for regulations are just some of these qualities. However, there are additional reasons it makes good sense to hire vets – and why looking to them first might give you a competitive edge.
Special Employer Incentives
The Special Employer Incentive (SEI) program connects employers with qualified veterans to fill a specific position. Under the program you can hire a qualified trainee at an apprentice wage. What's more, employers are reimbursed for up to half the veteran's salary. Additional equipment, training and supplies may also be covered. For complete information on the SEI program, check here.
Tax Credits
The Work Opportunity Tax Credit (WOTC) rewards businesses for hiring people from certain groups that face substantial barriers to employment. These include unemployed and disabled veterans. Employers can typically earn a credit equal to 25% or 40% of a new employee's first-year wages, up to a target group maximum. The incentive percentage is based on hours. For details on the WOTC, check here.
Veteran Hiring Assistance
The U.S. Department of Labor's CareerOnestop Business Center website has made recruiting and hiring skilled veterans easy. It's a resource for posting open positions, getting in touch with a Veterans Employment Representative and finding veterans with special skills your business needs to operate effectively.
Reputation
Hiring a vet can be good for your business. It shows you're serious about helping those who've served their country while fostering a reputation that's all-inclusive. Plus, it gives you access to a highly networked community of former enlisted men and women. So once you hire one veteran, referrals for the next one may come easier, and the cost of hiring a qualified applicant can drop considerably.
Safer and Healthier
Unlike many new employees who arrive with a steep (and costly) learning curve, veterans bring a wealth of specific training as well as broad-based, work-related knowledge. For instance, safety is hard wired into most vets, thanks to stringent military training. Many vets also maintain healthy, drug-free, fitness-minded lifestyles that minimize the cost of medical benefits.
Global Marketplace Awareness
Veterans understand the impact of a global marketplace because they've served nearly everywhere. Their perspective allows them to analyze world events that can impact your day-to-day operations and respond quickly. Their ability to function in chaotic conditions makes them nimble employees who can help navigate your business away from difficult situations.
Veterans have a duty to serve and protect our country. While some make the ultimate sacrifice, those who return to civilian life bring a variety of skills and experiences that can help make your business great. Consider hiring a veteran when your next position opens up, and see what a positive impact he or she can make.
Get TheWire Delivered to Your Inbox
The trends, insights, and solutions you need to grow your business.
By signing up, you're subscribing to our monthly email newsletter, The Wire. You may unsubscribe at any time.
Your information stays safe with us. Learn more about our privacy policy.