The Great Reshuffle: How Your Small Business Can Attract and Retain Top Talent
Hiring difficulties continue to belabor small businesses struggling to attract new workers while trying to keep their current staffing. As a result, more business owners are increasing wages to remain competitive. 
While some of the larger companies have bigger budgets that can cover the cost of increased wages or offer expensive perks, small business owners have to work with limited funds and resources. 
Does that mean small businesses are left to lose out in "The Great Reshuffle"?
Not necessarily.
Work-Life Balance, Flexibility Key in Attracting Talent
According to a recent study by LinkedIn, higher pay doesn't automatically entice workers to stay at a company. Instead, work-life balance perks such as remote work, flexible hours, and empathetic company cultures are increasingly in demand. And if an employer doesn't deliver, workers are ready to leave their jobs for companies that care for their employee's well-being and are willing to invest.
Small businesses with limited budgets can gain the competitive edge by implementing creative and out-of-the-box methods to not only retain workers but also attract top talent who are looking for more than just bigger paychecks.
"The Great Resignation," also known as "The Great Reshuffle," refers to a shift that led to more than 47 million workers quitting their jobs over the past couple of years. Instead of settling, workers are reevaluating their needs and going after jobs that provide more compensation and a better work-life balance and company culture. 
"So, many workers are quitting their jobs—but many are getting re-hired elsewhere," writes Stephanie Ferguson, senior manager, employment policy, for the U.S. Chamber of Commerce, in a report.
"So, many workers are quitting their jobs—but many are getting re-hired elsewhere"
  - Stephanie Ferguson, senior manager, employment policy, for the U.S. Chamber of Commerce.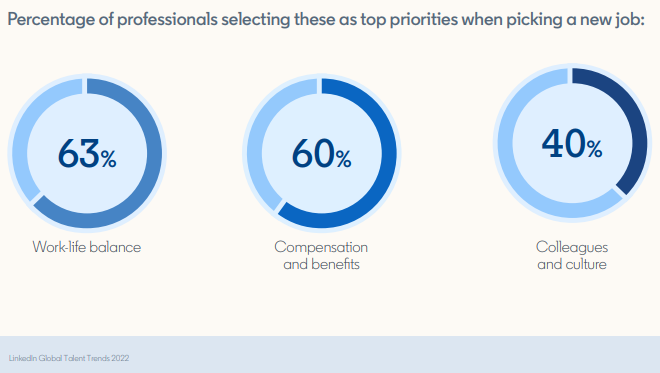 Tips to Attract Talent and Overcome Hiring Obstacles
While these hiring struggles continue, there are still ways small businesses can find success in remaining competitive in this challenging market. For those who can afford it, offering better health care options or help with tuition reimbursement or student loan debt may help bring in a bigger pool of candidates.
Some of the cost-effective methods small businesses may use to attract talent and overcome hiring obstacles include:
Promote remote work, flexible scheduling, and out-of-the-box benefits. Highlight these unique perks through regular job posting and social media posts.
Find potential candidates by connecting with them through social media. You may also want to examine your social media brand to ensure it reflects your culture and values so that you'll attract applicants who are the right fit for your company.
The pandemic has pushed remote work to the forefront. Jobs previously thought needed to be in person can now be performed entirely off-site effectively, expanding your applicant pool. Consider widening your search into other cities to increase your options.
Leading By Example and Setting the Right Tone
LinkedIn's 2022 Global Talent Trends reported that this latest way of working requires buy-in from company leaders, who will need to act as role models, set the tone for work-life boundaries, and practice self-care. The results, however, will be worth it as employees will be happier and less likely to leave.
Some of the recommendations to keep your current employees happy include:
Keep track of your employees' happiness. Ask them about what they find is important – whether it's their opinion about hybrid work or their career plans. Remember to follow up on their feedback.
Create and foster a company culture that makes employees want to stay. Beyond providing free snacks and a game room, it means setting up workplace behaviors that support your staff, for example, equal pay and better benefits.
Align your company values with your employees. Priorities have shifted during the pandemic, and workers are looking for employers whose priorities match theirs, whether it's social responsibility efforts or flexible work schedules.
The competition for quality labor remains at critical levels as employment challenges continue to plague most industries.
Take a look at these available options to increase your chances of attracting top talent for open positions. However, don't disregard the possibility of boosting wages, which may be a worthy investment due to today's competitive employees' market.
Get TheWire Delivered to Your Inbox
The trends, insights, and solutions you need to grow your business.
By signing up, you're subscribing to our monthly email newsletter, The Wire. You may unsubscribe at any time.
Your information stays safe with us. Learn more about our privacy policy.