Virtual Leadership: How to Effectively Lead Your Small Business Team
Competent leadership is vital to a business's success. With the shift to remote work, there is now a critical need for virtual leadership development. While more companies are gearing to return to the office, it seems that virtual working will remain an essential component in how we work.
79% of survey respondents stated that the time savings and lack of commute are top benefits, and 64% of organizations expect to continue working virtually. From managing productivity and zoom burnout to having adequate technology and keeping morale up, virtual leadership can be challenging. Still, it also comes with plenty of opportunities.  Small companies have a significant edge over larger corporations because they can make decisions and execute changes much quicker, making them more adaptable.
Take a look at these best practices for ideas on honing new leadership skills.
Technology is Essential
Virtual leadership is made possible by technology, and companies are fortunate to have a vast array of technical resources to manage a remote workforce. Explore time tracking or messaging apps like Slack and video conferencing apps like WebEx or Zoom. Make sure that employees have a productive work set up at home.  With all the benefits technology brings, it also requires investing in the time, training, and IT resources. Allow some time to get comfortable with this style of working and leading. It can be challenging to adapt to working with and through virtual technologies. Some may need that additional support from leadership to get up to speed. 
Virtual Leadership Styles
Leading virtually requires a level of trust where you let go of some control. Leaders with a more hands-off approach will likely find managing a remote staff less stressful than those with a bureaucratic or autocratic style. Simply being aware of this dynamic can allow you to relax into it and work on letting go gradually. Remember that you carefully selected and trained your team and have every reason to trust them. You may also use tools and apps to monitor performance and communicate more frequently with your staff.
Effective Communication for Virtual Leaders
Connecting frequently with teams, clients, shareholders, and the community is critical to successfully leading virtually. Be proactive, reliable, and communicate your company culture, vision, and mission clearly and routinely. Authentic and transparent communication is considered necessary by 3 in 4 employees.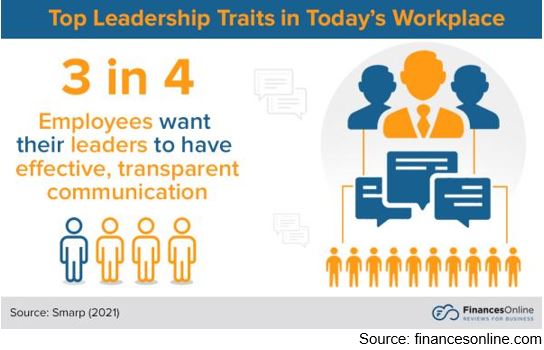 Virtual leaders may apply changes in workflow and agendas and introduce new apps. The remote environment may require brushing up on facilitation skills. To communicate virtually effectively, a leader needs to re-think everything and be very strategic. Consider the audience, the purpose, and context of the communication, and factor in how you want the other person to respond or feel. A virtual meeting may require you to ask more questions and make sure everyone has an opportunity to contribute. If you do weekly check-ins with your staff, think about which technology works best for you and them. Will an email or phone call be enough, or do you prefer to use Slack or Zoom?
You may need to reach out more frequently in a virtual setting to determine which employees have difficulties and need additional support. Not everyone excels without regular social interaction. It may help to provide additional training or allocate responsibilities differently among team members. Frame those changes in a positive light, and present them as opportunities to excel. Solicit feedback to see how those adjustments are playing out. Active listening is highly recommended in a remote leadership environment.
Maintaining Company Culture Virtually
Create an atmosphere of trust and safety, and encourage team members to reach out, just like they would with an open door policy at the office. A leader's role is to keep their employees focused on their vision. It is easy to get lost in details when you work remotely, so putting things into a broader perspective can be helpful. Focus on how you are helping your clients and customers and how your team's or an employee's work is helping your company reach that goal. 
Team building is essential in a virtual setting and requires a few adjustments to incorporate social interaction among your team. Zoom happy hours are popular, or you can set up joint music performances, virtual museum tours, interest groups, treasure hunts, fitness challenges, and meditation clubs. 
Get TheWire Delivered to Your Inbox
The trends, insights, and solutions you need to grow your business.
By signing up, you're subscribing to our monthly email newsletter, The Wire. You may unsubscribe at any time.
Your information stays safe with us. Learn more about our privacy policy.