The Must Knows of Small Business Management
Get TheWire Delivered to Your Inbox
The trends, insights, and solutions you need to grow your business.
By signing up, you're subscribing to our monthly email newsletter, The Wire. You may unsubscribe at any time.
Your information stays safe with us. Learn more about our privacy policy.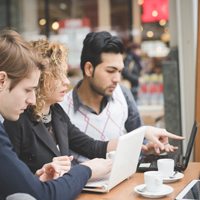 What's the formula for a successful small business? It's one part passion, two parts hard work, and a dash of luck. But the thing that binds it all together is management skill. That's how well you use your resources to reach your goals. Here are some important management skills that small business owners need to help ensure a successful venture.
Write a Business Plan (and stick to it)
Running a business without a plan is like going on vacation without a map. You're going to need directions. A plan identifies your goals, the strategy to achieve them, how you will finance them, and your marketing plans. You can tweak it as needed. Need help in writing a business plan? Take a look at the Small Business Administration's online Build a Business Plan tool.
Understand What Your Customers Want
The more you know about your customers, the better you'll be at helping them solve a problem. So look for opportunities to get their feedback. It might be as simple as asking them when they visit your store or website. Or conduct some market research. SurveyMonkey lets you conduct free online surveys, summarizes results, and provides some helpful tips.
Know When You Need Help
No one knows it all but there are those who think they do. They're the ones who tend to fail. Use the resources available in the areas where you need help. For example, the SCORE Organization provides online training on topics like financial projections. You can also access online mentors from experts in business operation, online marketing, and business accounting.
Market Using Online Tools
More and more customers look online before they buy, especially on their mobile devices. And it can be a cost effective way to reach potential customers. But you have to know how to use it. Some businesses start with a website to tell others about their business. Then they use social media like Facebook to start the conversation. Here's a guide from Google to learn more.
Measure, Measure, Measure
Monitor your progress by measuring results. It starts with having measurable goals. For example, increase your email list by one percent each month using online search advertising. You'll be able to track results and adjust your action plan accordingly. It also gives you useful information that will help you make better business decisions.
Running a success small business can be very rewarding. But the success comes from knowing how to manage your resources effectively. Ask yourself where you measure up on each of these skills and take advantage of opportunities to develop them.
Get TheWire Delivered to Your Inbox
The trends, insights, and solutions you need to grow your business.
By signing up, you're subscribing to our monthly email newsletter, The Wire. You may unsubscribe at any time.
Your information stays safe with us. Learn more about our privacy policy.