How to Work With Freelancers
Get TheWire Delivered to Your Inbox
The trends, insights, and solutions you need to grow your business.
By signing up, you're subscribing to our monthly email newsletter, The Wire. You may unsubscribe at any time.
Your information stays safe with us. Learn more about our privacy policy.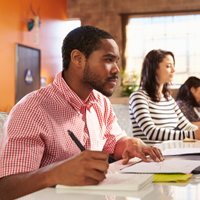 'Hire a freelancer' is an easy go-to when your business is in a pinch. But there are right and wrong ways to go about it that can make or break a project. From choosing who to work with to evaluating the job once finished, here are five things to consider the next time you farm out.
One: Vet and Don't Fret
The more you know about the freelancer you plan to work with, the less you'll worry over the course of the project and relationship. While many come via word of mouth, dig deeper–enough to learn what other firms think of his or her work, whether responsiveness is an issue, etc. Social platforms, such as LinkedIn, can also provide insights. If you're hiring a web developer, graphic artist or writer, ask for samples or a link to a site.
Two: Don't Assume They Know What You Know
While delegating to a freelancer provides immediate relief, be sure he or she understands the project scope, deadlines and expected deliverables before you move onto other aspects of the project. Confirm everything in writing–email works great for this. If you're within the same city, invite the freelancer in for a project kick-off meeting with team members, or do this via conference call or video chat if meeting in person isn't feasible.
Three: Provide a Tool Kit
While you may know your business's mission, brand voice, graphic standards and other assets like the back of your hand, remember that most freelancers are coming in cold. Provide the important details that will increase the likelihood that work is on target and on brand. If you're hiring someone to design a landing page and click-throughs for an online promotion, make sure they have your fonts, any image guidelines, approved colors and any legal content or disclosures needed to complete the work. When it comes to providing tools and insights, it's better to overshare.
Four: Engage Them Like Employees
The more included a freelancer feels, the more likely he or she will deliver spot-on work. If possible, introduce the entire team and provide the opportunity for everyone to get comfortable with each other. This will help facilitate better communication and an easier exchange of ideas. A spirit of camaraderie and shared vision also creates loyalty and an atmosphere where team members won't want to let each other down.
Five: Give And Ask For Feedback
While most businesses that use freelancers are comfortable giving feedback, not all of them ask for feedback in return. Ask contractors what's working on a project or what could be tweaked and improved. Invite them to share their experiences that might enhance how a project is proceeding. Many freelancers come from varied backgrounds and can provide unique insights you or your team may not have considered. Consider them consultants as much as freelancers, and your relationship will flourish.
Hiring a freelancer can be the answer to a variety of problems. Doing it correctly, however, can ensure that the answer is correct.
Get TheWire Delivered to Your Inbox
The trends, insights, and solutions you need to grow your business.
By signing up, you're subscribing to our monthly email newsletter, The Wire. You may unsubscribe at any time.
Your information stays safe with us. Learn more about our privacy policy.