3 Ways to Improve Time Management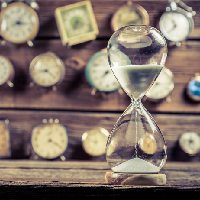 Could you use some extra time to keep your business—and life—running smoothly? We've taken the liberty of providing you with some time management options that can add hours to your day and make your year more productive.
1. Leverage These Timesaving Apps
Timesaving technology is as close as your phone with a variety of apps tailor made for busy small business owners:
1-3-5 List 
Not all tasks in a day are created equal, nor do they all require the same amount of time and attention. 1-3-5 List ranks tasks by order of importance with 1 at the top and five at the bottom. It prioritizes so that you can focus on what matters most, instead of spinning your wheels on tasks that aren't as significant.
RescueTime
It happens to everyone. One minute you're checking your business Facebook page and before you know it, 30 minutes have passed watching sports highlights. RescueTime lives up to its name by tracking all your digital activity and reporting the results back to you. Once you see where time's a wasting, you can change your habits.
myMemorizer
Forgetfulness is a thing of the past with myMemorizer, an app with the sole purpose of keeping you in front of your calendar and to-do lists. Simply add your events and when the time comes, you'll get a text, email or both with a gentle reminder that it's time to act. You can even include work teams, so everyone stays up to speed.
2. Avoid Time-Wasting Situations
An occasional schedule blow-up happens, but knowing how to deflect these sure-fire time wasters will put you in a better spot.
Impromptu Vendor Visits and Sales Calls
Set aside a day each month for these, and let your vendors and sales callers know when you'll be available. More important, let them know you won't be in a position to engage outside of this window, unless you tell them otherwise. Setting the tone early will save you time later on.
Refereeing and Rendering Decisions
You don't have time to settle every employee dispute or give the final say on every decision. Reduce the need—and increase the time in your day—by empowering your staff to handle these situations. These ten tips can help you develop a staff that's capable of functioning without your constant intervention.
3. Admit and Commit
Still not convinced you could manage your time better? Psychology Today offers a simple ten-minute quiz to help you find out. The quiz and basic results are free; a more in-depth report is available for a nominal fee.
If you're not into quizzes, consider anecdotal evidence. For instance, if you're generally putting in 60+ hour workweeks or thinking about your business at the expense of family or personal life—or have no life outside of work—then you may have time management issues that need to be addressed. If so, return to step one above.
Good time management stems from a variety of tactics. By using the ones shared here you'll be well on your way to a better work-life balance.
Get TheWire Delivered to Your Inbox
The trends, insights, and solutions you need to grow your business.
By signing up, you're subscribing to our monthly email newsletter, The Wire. You may unsubscribe at any time.
Your information stays safe with us. Learn more about our privacy policy.