Spotlight on Small Business: Urgent & Primary Care Clinic of Clarksdale
Urgent & Primary Care Clinic of Clarksdale Stays Focused On Community
For Dr. Mary Williams, the mission at Urgent & Primary Care Clinic of Clarksdale is as clear as the day she started the healthcare practice in 2018.
"People were having to use ER for chronic and acute things that could be handled on an outpatient basis," recalls Williams, who's worked in healthcare for more than 20 years.
The options for care in the community were limited, she says.
"When people went to seek care somewhere after 5 p.m. or on weekends, nothing was available, and they'd have to drive 45 miles to get care," Williams says. "And if it weren't an emergency, they'd have to travel far just to find an after-hours clinic."
It was abundantly clear that Clarksdale, Miss., needed more options, and she decided to open the first urgent care and primary care clinic, known as UPC of Clarksdale, in Coahoma County to fill that void. Williams, chief executive officer and owner of the urgent care, specializes in Nephrology at Northwest Mississippi Regional Medical Center. She received a Doctor of Nursing Practice degree from the University of Tennessee Health Science Center and owned Clarksdale's first locally owned hospice agency.
"We started 12 hours a day, seven days a week," she says, recalling the beginnings of the urgent care. "and the community response was overwhelming."
After starting with three employees, UPC of Clarksdale has grown to a staff of 10, including a second nurse practitioner and an RN, LPN and front office, billing, and IT staff.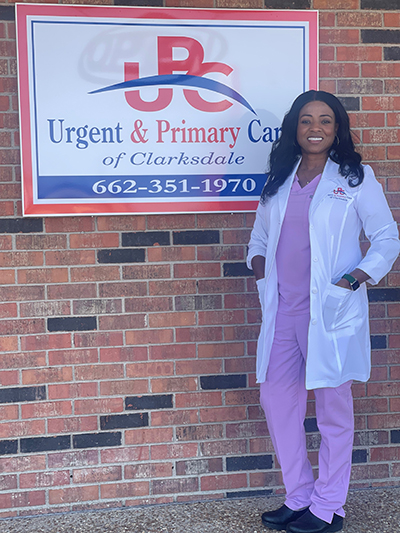 Personal Patient Care
Williams learned early in her nursing career that patient care was her calling. "I love what I do," she says.
Caring for patients is so rewarding, she says. "A lot of people say I work too much, but I do what I love." She likes that Clarksdale is the kind of place where people know each other. 
"I live in a small community – people run into me all the time, they want to talk about their health," she says.
A Look Ahead, Lessons Learned
In addition to filling a need in the community, Williams says UPC of Clarksdale 's broader mission centers on creating a new healthcare culture for patients – one in which everyone has access to the best and affordable care.
And while the pandemic shone a light on the traditional system's flaws, it also showed the power of a community working together for a united purpose, she says. 
Healthcare providers and related organizations communicated more, combining resources when there were supply issues and making referrals to help patients get needed services. 
There was a more community-minded focus on access to patient care, Williams says. "And that was a good thing."
Appreciating Employees
Williams acknowledged the stress and pressure on healthcare workers during the pandemic and quickly praised UPC of Clarksdale 's "great" staff.
"They're dedicated, and they carry the same vision I carry -- changing the culture of health care one patient at a time," she adds.
Part of that vision, she says, is for every UPC of Clarksdale patient to receive quality care.
"We want to make a difference when they walk in our door," Williams adds. "The minute we make contact, we're smiling, we're greeting the patient and letting them know we appreciate them coming in."
Small Business Lessons
When asked what advice she could share for other entrepreneurs, Williams said it's important to remind yourself of your purpose why you started your business, particularly after a hard day.
"I birthed this business out of a community need," she says. "The need is there, and I'm still serving that purpose. When I have a bad day, I remember why I started. And that recharges me to go back and do it again."
Looking ahead, Williams sees herself becoming more involved as an advocate for new nurse practitioners and new healthcare providers.
 "I'd like to become a community liaison to bring people and services to meet the needs of the community," she says. One example, she says, is telehealth. "I want to work to make telehealth more readily available."
In the day-to-day, Williams is personally motivated by helping people and making a difference in their lives.
She's also inspired by "changing the scene" in the community.
"I'm an African American female business owner. I want brown and black girls to look at me and say: 'I can do that," Williams said. "I'm making history."
According to the Annual Business Survey recently released by the U.S. Census Bureau, there were approximately 134,567 Black- or African American-owned businesses in 2019, who accumulated $133.7 billion in annual receipts, employed 1.3 million workers, and roughly $40.5 billion in annual payroll. Of these businesses, nearly one-third were in the Health Care and Social Assistance sector.
Get TheWire Delivered to Your Inbox
The trends, insights, and solutions you need to grow your business.
By signing up, you're subscribing to our monthly email newsletter, The Wire. You may unsubscribe at any time.
Your information stays safe with us. Learn more about our privacy policy.