Must-See Movies for Entrepreneurs
Get TheWire Delivered to Your Inbox
The trends, insights, and solutions you need to grow your business.
By signing up, you're subscribing to our monthly email newsletter, The Wire. You may unsubscribe at any time.
Your information stays safe with us. Learn more about our privacy policy.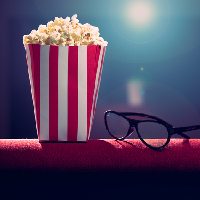 Need a break during your busiest time of the year? Why not take a guilt-free pause. Just sit back in your favorite easy chair with a bowl of popcorn and stream one of these must see movies for entrepreneurs. Think of it as a two-hour business seminar that recharges your batteries and maybe teaches you something new about running a small business. Come on, give yourself an early holiday gift - you've earned it.
This holiday classic tells the story of a businessman facing tough economic times. He feels responsible for ruining the family business and letting down his family and the small town where he lives. With the help of an angel, he realizes that life is wonderful after all.
Why you should watch it: This is a tale about picking yourself up from disappointment by looking at the bigger picture and realizing what's really important.
This is a true story of a man who invests in an overpriced product that under delivers. It leads to the breakup of his family and financial hardship. As a single father, he set his sights on an unpaid internship as a stockbroker while still trying to earn a living selling his remaining inventory.
Why you should watch it: This is a study in focusing on your long-term goals and being resilient in the face of overwhelming obstacles.
The story of a sports agent who decides that life at a big-name sports management firm is no longer for him. He strikes out on his own with just one volatile athlete as a client. With nothing but his talent and drive, he works to overcome a number of challenges to start his business.
Why you should watch it: A great reminder of why you started your own business - to follow your own mission statement and be in control of your own destiny.
This documentary traces the birth and failure of a real-life website, govWorks.com. It explores how they were able to raise $60 million in venture capital. A failing economy, competition and conflicts with the business partner/friends contribute to their eventual crash.
Why you should watch it: This is a good case study in funding a new business and the interplay between partners in making ongoing management decisions.
A frustrated chef loses his job after a videotaped argument with a food critic goes viral. He starts a food truck business specializing in Cubanos sandwiches. Together with his young, media-savvy son and a partner, they embark on a tour of the country to rediscover his culinary passion.
Why you should watch it: It demonstrates the use (and misuse) of social media and the impact it can have in promoting a new business.
This is a classic story of a local, independent bookstore owner competing with the new big box megastore opening in the neighborhood. Unwittingly, the owner and a rep for the big store communicate with each other via email as the battle ensues.
Why you should watch it: This is a good reminder to compete based on a sustainable competitive advantage. In this case, it should have been local service, not price.
Movies have a way of transporting us outside of our world and maybe teaching us a lesson or two. Then we come back looking at things a little differently. Change your scene with these films about entrepreneurs.
Get TheWire Delivered to Your Inbox
The trends, insights, and solutions you need to grow your business.
By signing up, you're subscribing to our monthly email newsletter, The Wire. You may unsubscribe at any time.
Your information stays safe with us. Learn more about our privacy policy.