Embrace Big Data: 5 Must Have Small Business Data Tools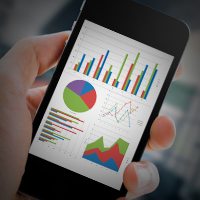 If you're looking to make the most of your software and social platforms, now is the time to embrace some new applications that enhance how your business 'gets' data. Quick, robust and relatively inexpensive, these tools may be the ticket to savvier marketing, better sales and greater profits.
Google Analytics Application Gallery
This gallery provides access to a host of third-party apps that enhance the functionality of Google Analytics. Here, beginning business owner-analysts will find several gateway apps that are easy to master and build on. While there's no cost to browse the gallery, be prepared to spend a little – or a lot – on some of the apps, depending on what they deliver.
SoftwareAG
Tired of paying lofty sums for analysts to cypher your data? SoftwareAG can do the work for you at a fraction of the cost. This inquisitive bot pulls data from platforms, such as Microsoft Office and Server products, Salesforce.com and Oracle, and compares them virtually on demand. Free trials allow you to try it before you buy it. And if you do, it still costs less than it would to hire a database specialist. Plus, it doesn't take coffee breaks.
Facebook Reports by WolframAlpha
Sure, you use Facebook analytics, but there are times you'd like to dive even deeper. Enter WolframAlpha and it's cornucopia of Facebook insights chopped, diced and delivered in every way imaginable. It breaks down your business page and fans to reveal insights you can use to market with pinpoint accuracy. Plus, you can start for free or pay just $4.99 a month for the pro version.
Recorded Future
What do you get when Recorded Future partners with the venture capital arm of the CIA and Google? A lovechild that predicts the future, literally, by aggregating everything from news posts to personal comments made by executives and industry influencers. While accuracy leans slightly toward established topics (think corporate announcements and product launches), it's still more viable than most prognosticators. If world markets or global events impact your business, consider Recorded Future for your future. The basic version is free.
Quantum Leap Buzz
How do you distill a million disparate posts into synchronized, organized data? Quantum Leap Buzz takes a successful crack at it with an application that turns Twitter and Facebook chatter into visual eye candy with substance. Watch it break down trending themes, topics and actions of individual users into insights you can use to craft better messaging and marketing. Best of all, it's free to download.
In the age of information, these big data apps are helping small businesses take their strategic marketing and business planning to new heights.
Get TheWire Delivered to Your Inbox
The trends, insights, and solutions you need to grow your business.
By signing up, you're subscribing to our monthly email newsletter, The Wire. You may unsubscribe at any time.
Your information stays safe with us. Learn more about our privacy policy.