Delve Into Data to Drive Growth
Get TheWire Delivered to Your Inbox
The trends, insights, and solutions you need to grow your business.
By signing up, you're subscribing to our monthly email newsletter, The Wire. You may unsubscribe at any time.
Your information stays safe with us. Learn more about our privacy policy.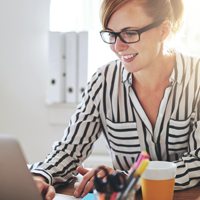 Using data to drive growth isn't new to small business. Using big data to drive small business growth, however, is something more small businesses are considering daily.
Whether you prefer your data small or big, there's no doubt that businesses have access to unprecedented amounts of it. Here are some of the tools you can use to process data to your advantage:
Google Applications Gallery
This free repository of vetted and proven resources gives you access to the metrics you need most. Whether you're looking to target consumers through mobile app tracking or excel in ecommerce, there's a service or app here you can access in an instant. Go here to get started.
Facebook Reports
A Facebook business page is more than just window dressing when you combine it with WolframAlpha Facebook Reports. They help business owners understand who's visiting their page and how they're interacting with it. Perhaps best of all, basic reports are free. For a few dollars a month ($5.49 to be exact), you can dig deeper into the data with more advanced tools.
Recorded Future
When the venture capital arm of the CIA partners with a technology firm to develop a data aggregation tool that predicts the future, who wins? Small businesses, quite possibly. While not for every business, Recorded Future can help those that serve volatile markets overseas visualize what may lie ahead economically.
Canopy Labs
For small businesses that operate closer to home, there's Canopy Labs, a platform that also provides future forecasts so you can tailor your marketing accordingly. Perhaps its savviest feature is a comprehensive look at each customer that shows lifetime value to your company, purchase history, email tendencies and more.
Tranzlogic
In a world that revolves around plastic, Tranzlogic helps merchants make sense of it all. By compiling the data from credit card consumers, it helps them analyze customer segments, measure sales performance, build loyalty programs and more. One of the most appealing features is the fact that it's entirely turnkey. Vendors simply log in for online access to their data.
The Cloud
Of course, no discussion of data would be complete without mentioning the cloud. This seemingly limitless source of digital solutions continues to spawn new and innovative methods for small businesses to improve. Whether you're looking to streamline workflow, ramp up production or simply manage projects more efficiently, the cloud looms on the horizon with data, ready to cover your back.
No matter which tools you use and how you put data to work, it's part of the business landscape. In fact, companies of all sizes are putting it to use in an effort to grow their share of the market. To keep them at bay and grow more effectively, embracing data today will help you compete better tomorrow.
Get TheWire Delivered to Your Inbox
The trends, insights, and solutions you need to grow your business.
By signing up, you're subscribing to our monthly email newsletter, The Wire. You may unsubscribe at any time.
Your information stays safe with us. Learn more about our privacy policy.