Tips to Increase Your Business Credit Ranking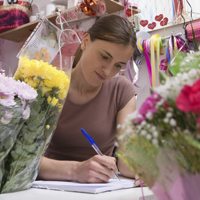 You want to grow your business. But between filling orders and handling customer service, your typical workweek goes well beyond 40 hours. Growth often requires more than sweat equity. At some point, you need to secure funding for more resources. That's why having a good credit history can help. Here are some tips to increase your business credit ranking so you can get the funding to grow your small business.
Know Your Credit Score
Anyone who's bought a home knows their personal credit score. But did you know your business has one too? According to the Small Business American Dream Gap report, 45 percent of businesses didn't know.
Your business credit score is based on a number of factors including credit history, outstanding debts, industry risk, and business size. Just like your personal score, there are a number of rating agencies that score businesses. Three of the most common are Dun & Bradstreet Paydex, Experian Intellisource Plus, and FICO Small Business Scoring Service.
Nav is one website that lets you check your score from several agencies in one place (and it's free). Check your scores regularly and correct any inaccuracies.
Putting Points on the Board
Small business owners who understand their score are 41 percent more likely to get approved for a loan. That's because they understand what elements lenders look for and work to improve their rating in that category.
Here are some easy ways to improve these elements:
Pay before time – Just like you prefer to work with customers that pay promptly, so do lenders. In fact, consider paying before the due date. gov reports that businesses paying promptly will have an 80 Paydex score. But one who pays 30 days sooner may have a 100 Paydex score.
Leverage trade credit – Some suppliers will allow you to pay several days or weeks after you receive inventory. It's called "trade credit." Ask them to report your payments to the rating agencies. Even if they don't, you can list them as a trade reference on your credit report. As long as you live up to the agreement, it helps you demonstrate credit worthiness.
Hold back a little – One of the elements of your score is the credit utilization ratio. It's how much of your available credit you actually use. SBA.gov suggests keeping it under 30 percent. Lenders like knowing that a business has a cushion of credit that they can fall back on if needed.
Ask for more – Another way to tackle the utilization ratio is to increase your total credit limit. You can ask lenders you do business with to increase the limit on your current credit accounts. Typically you have to have had the account for a period of time with a good payment history.
Give yourself some credit for your hard work. Consider these tips for improving your credit ranking and position your business to obtain funding to grow your small business.
Get TheWire Delivered to Your Inbox
The trends, insights, and solutions you need to grow your business.
By signing up, you're subscribing to our monthly email newsletter, The Wire. You may unsubscribe at any time.
Your information stays safe with us. Learn more about our privacy policy.