Creating an Exceptional Referral Program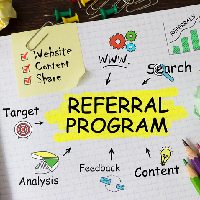 Few things in the sales process are as delicate as referrals. If not channeled and cultivated correctly, even the most promising ones can turn sour and undermine your success. That's why it's important to develop a foolproof referral program you can depend on day in and day out.
We show you how with some help from Trisha Winter, Chief Marketing Officer of Amplifinity, a leading referral program provider for businesses. Her insights are shared here along with some additional best practices.
Trisha's Tip: Make It Yours
According to Winter, looking on brand is key. "While you will likely use referral marketing software to launch your program, make sure you can customize it so that every interaction feels 100% a part of your brand," she says. "Your customers, partners or employees are willing to make referrals because they trust in your brand. If they see a different company name, they lose trust and ultimately refer less."
Trisha's Tip: Get sales involved
A team approach is also critical, says Winter. "A referral program run by marketing will thrive if your sales team is enabled to help drive referrals. Make sure that sales can see which advocate made a referral from the lead record so that they can get a warm intro."
And that's not the only way to effectively engage sales. Winter points out that it's important to make sure the sales team has a way to invite new advocates and capture verbal referrals. "They are talking to customers and partners every day and if enabled, can be a key driver for success."
Trisha's Tip: Automate the hassle
"The toughest part of referrals is keeping track of everything and acting on it," says Winter, which makes automating your program a necessity. "If you don't have a good way to monitor all of the interactions and trigger reward fulfillment once a referral makes a purchase, it will be an operational nightmare. Use technology to take care of this for you, but make sure you also consider tax compliance and CAN/SPAM laws, too!"
Best Practice: Define your target
Not everyone is a candidate to buy your product or take advantage of your services. Before you begin thinking about a referral program, take some time to define your audience. Create an ideal referral profile to ensure everyone in your organization is keying in on the right kinds of people. By doing so, you'll be targeting referrals most likely to buy. For tips on defining your target market, check here.
Best Practice: Do some homework
Ask your colleagues in other businesses what types of referral programs work for them. Go online and search 'referral programs.' There's no shortage of information available that can help you identify the type of program you should use for your business.
Best Practice: Test different methods until you get it right
There are many ways to build a referral program that incentivizes employees. Some are motivated by money, while others may be encouraged by time off or additional perks. If you try one thing and it doesn't work, don't give up. Tweak your referral structure until you hit on a method that has everyone on board.
Best Practice: Include your referral program in your budget
A successful referral program isn't a one-time occurrence. It should be an ongoing process that allows you to build and sustain a continuous flow of willing prospects. By earmarking funds for your referral program on an annual basis, you can continue to refine your referral process into a well-oiled machine.
A referral program doesn't happen by accident. The tips here can help you develop a program that will keep the referrals coming. Visit http://amplifinity.com, for more information on building a remarkable referral program, including an entry-level option that's tailor-made for small business.
Get TheWire Delivered to Your Inbox
The trends, insights, and solutions you need to grow your business.
By signing up, you're subscribing to our monthly email newsletter, The Wire. You may unsubscribe at any time.
Your information stays safe with us. Learn more about our privacy policy.