Phoenix, AZ
FOR IMMEDIATE RELEASE
More than 600 businesses in Portland, Texas, will soon have access to a brand-new fiber-optic network being built by Sparklight Business (formerly Cable ONE Business). It's called Piranha Fiber® – and it's bringing ferociously fast internet®, along with a world of opportunity, to Portland.
This fiber-optic build from Sparklight Business will put Portland on the map as one of the first cities in the state and the nation with 2 Gig internet access. The build comes just a little over a year after Sparklight Business (then Cable ONE Business) announced plans to expand its fiber-optic services for small and mid-sized business across its 21-state service area. To date, builds have been completed in nearly a dozen markets, including Boise, Fargo, Odessa, and Biloxi. 
The Portland build will stretch along US Highway 181 and reach into numerous business parks along the route. (See accompanying map.)
"Piranha Fiber is the first 2 gigabit shared fiber-optic internet service available to businesses in the Portland area," said Chris Boone, vice president of Business Services for Sparklight. "While most national fiber providers are offering 1 gigabit service, we're the first to offer 2 gigabits."
For today's businesses, a fast, reliable internet connection has moved from being a convenience to an absolute necessity – and a critical component of success.
"Fast, reliable internet access enhances productivity," said Boone. "It allows businesses to increase collaboration, send and share larger files more quickly and take advantage of more cloud-based applications in order to achieve operational efficiencies, greater productivity and growth."
Service will be delivered over an extremely reliable fiber-based architecture and shared bandwidth, which allows Sparklight Business to spread its infrastructure costs over a broader customer base and offer the fiber connection at a price that's affordable for most small businesses.
 "Piranha Fiber is offered over a passive optical network or PON," said Boone. "This means it offers the affordability and easy access of cable along with the speed, security and reliability of fiber."
Several Piranha Fiber internet plans will be available, allowing businesses to choose the level of service that's right for them, beginning at 50 megabits per second and easily scaling to 2 gigabits per second. And, because it's fiber, all speeds will be "symmetrical," meaning upload speeds will be just as fast as download speeds.
"Sparklight has invested more than $42 million in Texas over the past five years on network upgrades and other enhancements in order to bring the latest technology and fastest speeds to our customers," said Boone. "As part of our ongoing investment and with the launch of this new service, we are expanding our service offerings to local businesses while contributing to the economic development of the state."
Businesses can visit business.cableone.net/piranha for more details.
About Sparklight Business
Sparklight Business, formerly Cable ONE Business, serves more than 70,000 businesses across a 21-state region, providing superior communication solutions at an affordable price and backing those solutions with the highest level of customer service and technical support. Products include high-speed internet, phone and cable TV for businesses of all sizes.
Additional Background & Information
What is Shared Fiber and How Does it Work?
5 Key Advantages of PON Internet, a.k.a. Shared Fiber
6 Ways Shared Fiber is Transforming Rural Communities
Research Consensus: High Speed Internet Empowers Rural Renaissance
Cable ONE to Rebrand as Sparklight™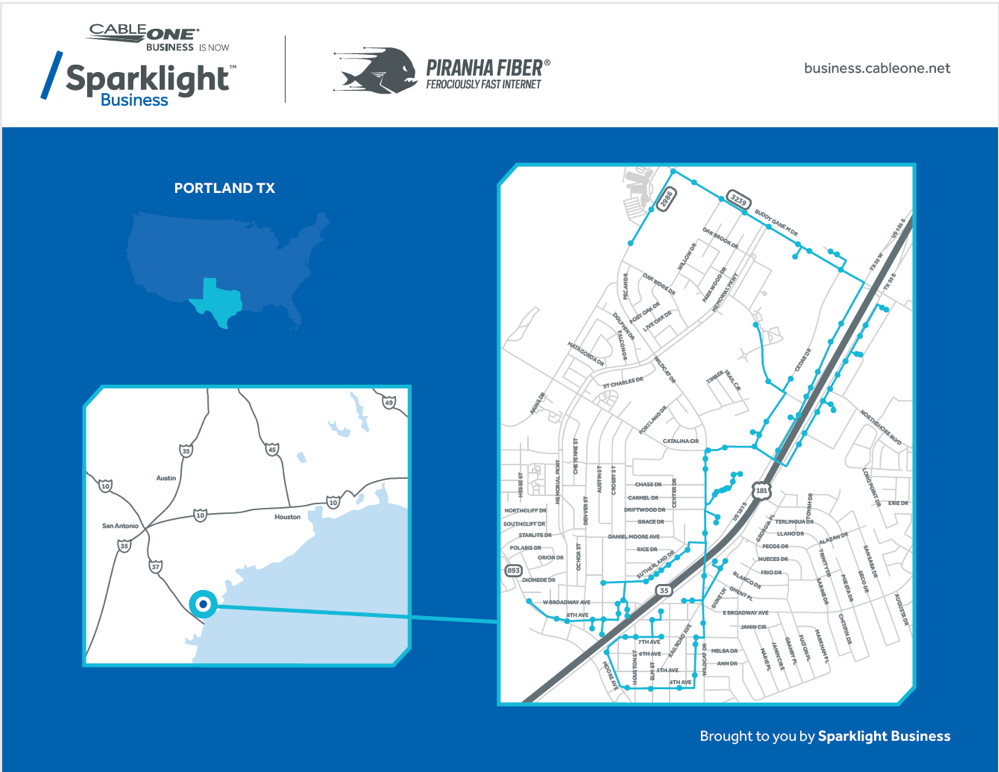 Sparklight Business
Piranha Fiber-Optic Network Build
2-Gig High-Speed Internet Connection
Reaching More than 600 Local Businesses
Portland, Texas
Construction began February 25, 2019