How an Ethernet Private Line Can Benefit Your Business
Today's businesses are highly complex, often including multiple locations and extremely detailed data and security requirements. One of the best ways to ensure your business has the bandwidth needed to remain competitive is with an Ethernet Private Line (EPL). An Ethernet Private Line cost-effectively provides two business locations with a point-to-point high-speed internet connection.
Your business will be able to share voice, video and internet applications through a simple, flexible communications infrastructure. This modern alternative to using the public internet allows your sensitive data to travel quickly and safely – and can easily scale as needed. See how an Ethernet Private Line will benefit your business. 
What is an Ethernet Private Line?
At its most basic, an Ethernet Private Line (EPL) is a point-to-point Ethernet connection that provides an extremely high-speed connection directly between two locations without being routed through the public internet. EPL offers a significant degree of security which is critical for healthcare, financial organizations or any other multi-location business. This is especially useful when you are dealing with highly regulated personal information such as social security numbers, medical information, birth dates and more.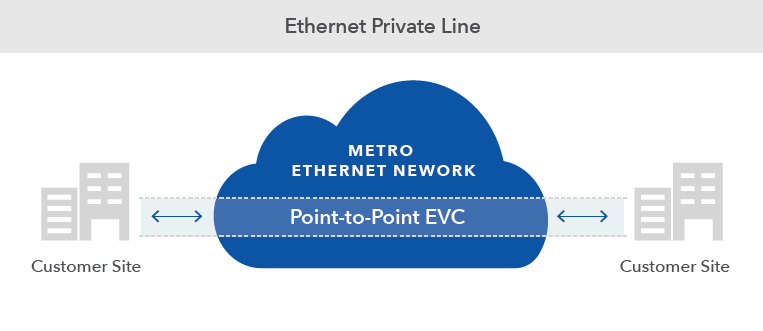 Examples of Using an Ethernet Private Line
There are many ways in which you can leverage an Ethernet Private Line in your business.
Moving data between locations or a data storage hub
Providing a highly-secure and rapid access point for obtaining backups and restoring files
Processing credit cards
Voice and video calls between locations
As a private, dedicated network
Benefits of an Ethernet Private Line
Anytime you are transferring large quantities of data between two locations or between your location and a data center, an Ethernet Private Line helps keep your network flowing smoothly and safely.
Benefits include:
Ability to quickly and easily network with individuals at remote locations
Seamless project collaboration between locations
A cost-effective option for multi-site businesses
Exceptional level of security
No more worrying about dropped calls or slow internet access
In the event of a power outage, your lines can become operational again very quickly
The high quality of the connection makes an EPL the optimal choice when it's mission-critical that your data arrives quickly and in exactly the form intended. 
You can access an Ethernet Private Line with speeds anywhere from 10 Mbps to 10 Gbps, making this an excellent choice for any size business or functional need. Since your data is not going through the public internet, it can be easier to obtain security certifications and meet audit and compliance requirements. An Ethernet Private Line is one way that your business can connect to local and global counterparts with the peace of mind knowing that information is not at risk or moving through public spaces.