Fiber Availability for Business
Is Fiber Available for Your Business?
If you're interested in fiber access for your business internet service, you'll need to do a little online research. You can search for "when is fiber broadband coming to my area" or "is fiber available in my area" to find out whether fiber internet coverage is available where you are. Although most urban areas already have a fiber optic infrastructure, your specific location may not have been meshed with fiber optic service. Once you've learned if fiber optic internet is available in your area, you can search for "fiber optic internet providers in my area" to find out which providers are fiber internet companies.
Call -855-60-FIBER to check fiber availability from Sparklight Business.
Sparklight Business fiber internet Coverage Areas?
Sparklight Business is a business internet service provider headquartered in Phoenix, Arizona. We provide business-class internet through our state-of-the-art, nationwide multi-service fiber optic backbone that enables us to deliver dedicated fiber service to companies across the United States. Sparklight Business can supply your business with direct internet access (DIA) and Ethernet networking solutions locally and nationwide via multiple internet Points of Presence (POPs).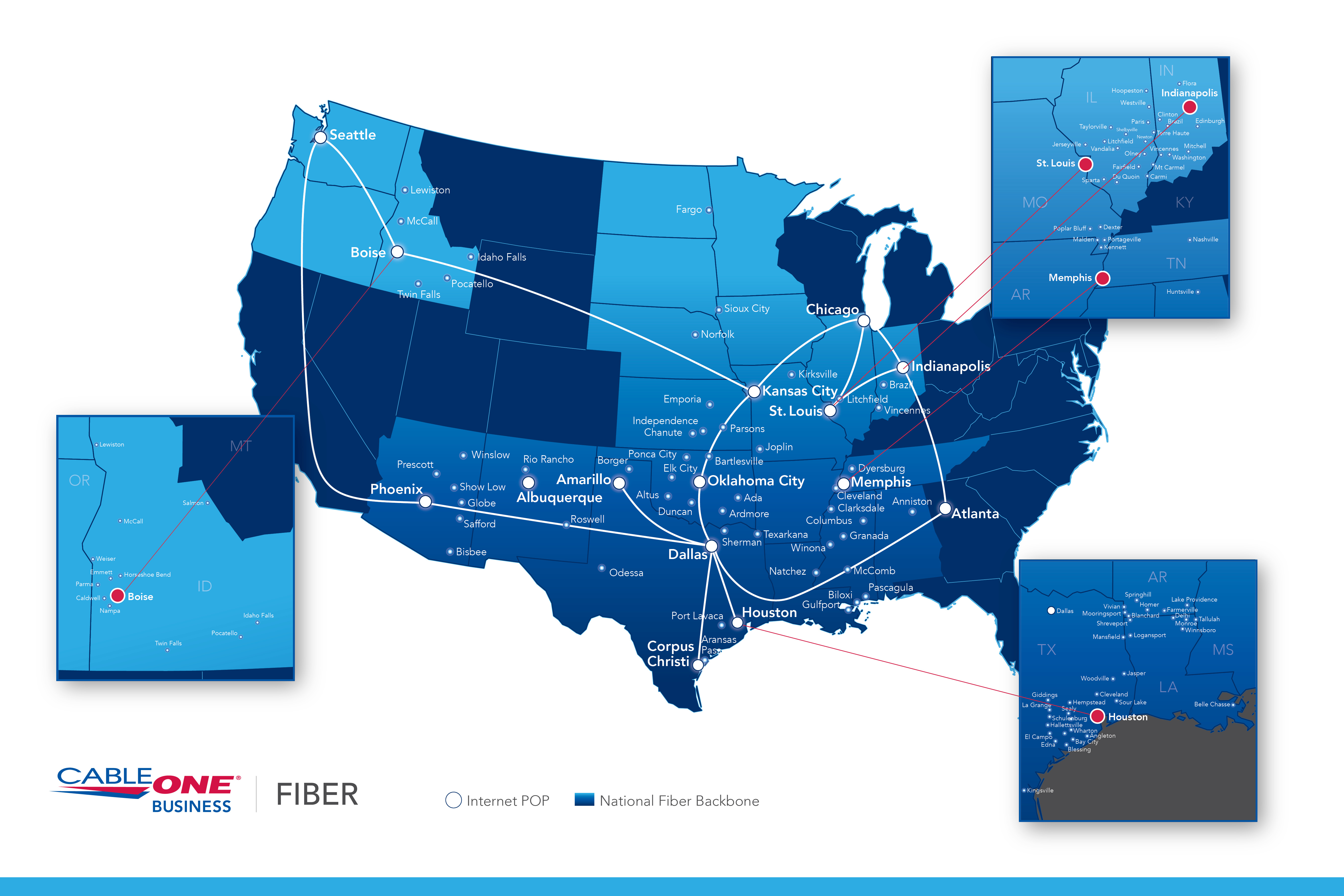 Our fiber optic backbone has its largest data centers in Atlanta, Boise, Chicago, Dallas, Kansas City, and Phoenix, along with regional fiber networks in dozens of cities in those regions. We are a business-class internet provider in your area, no matter where you are; our partnerships with other internet POPs enable us to provide business internet options all over America and dedicated fiber service in a multitude of communities. Our current business fiber map depicts our service areas along with those to which we provide fiber internet coverage through partner agreements.
What Fiber Internet Access does your Business Need?
Business fiber access from Sparklight Business is Direct Internet Access (DIA) service, which means your business will be directly connected to a fiber optic network. And because your connection won't be shared with any other customers, you'll get the speeds you pay for along with the security of a direct connection. We offer fiber internet coverage with speeds ranging from 10 Mbps to 10 Gbps, more than enough speed for organizations of all sizes.
Fiber Ethernet Solutions
And, our networking solutions allow you to share a single internet connection among multiple buildings or sites. For example, we have a healthcare customer with multiple locations allowing us to prescribe fiber optic services offering the internet speed and Ethernet flexibility they need, while keeping costs down and the local support to help keep everything running smoothly.
Advantages of Fiber Internet from Sparklight Business
If you're looking for an internet service provider to be a partner in providing fiber access to meet your company's unique needs, look to Sparklight Business. Our ultra-reliable, state-of-the-art nationwide network is the perfect alternative to regional providers or the phone company—with proactively managed 24/7 business-grade support services that ensure your business stays moving.
Get Fiber Internet
Sparklight Business provides free fiber price quotes. We will help you find one of our variety of flexible, scalable plans and bundles that's just right for you so that you won't have to pay for more than you need. When you choose Sparklight Business as your business internet service provider, you'll enjoy fiber connectivity solutions that help you and your team be more efficient and productive so you can grow your business faster.